'A Space for Us': Somers Town Museum sheds light on local history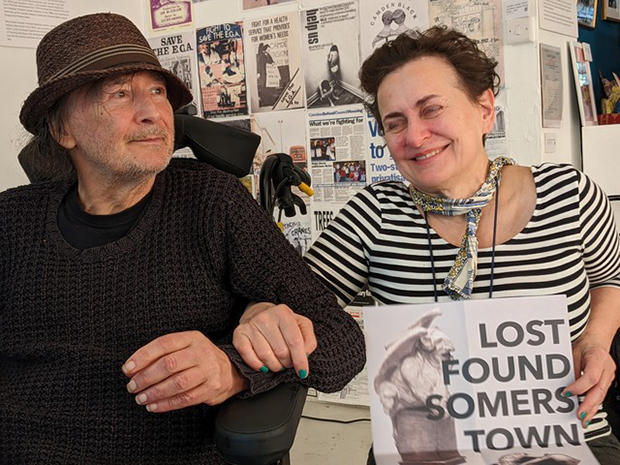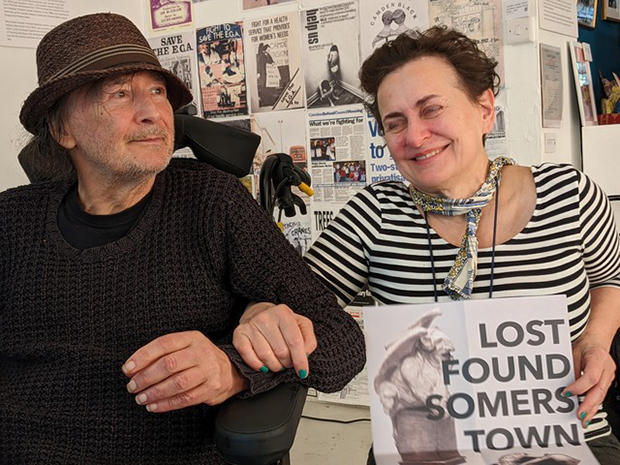 Tucked away on a side street between Euston and King's Cross is a treasure trove of Somers Town history.
Perhaps the most surprising are the larger-than-life models of a flea and a bedbug suspended from the ceiling of A Space For Us, the area's new free museum which has just opened in Phoenix Road.
They are copies of models of vermin symbolically destroyed when slums were cleared and work started on St Christopher's Flats on the Sidney estate, in 1931.
The vermin, though, were real and the poor living conditions near the grand railway stations led to a social housing movement.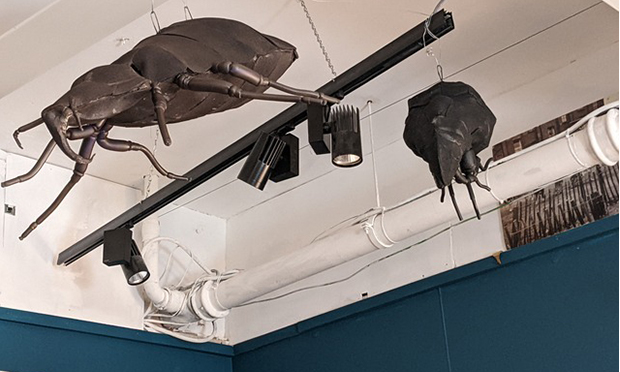 The St Pancras Housing Improvement Society pioneered social housing which was radical for its time.
It is still celebrated today – and some of the museum's first visitors were town planning students from University College London (UCL) keen to learn more.
The museum was the dream of people keen to celebrate the area, including ward councillor Roger Robinson, who retired this June, and writer Deborah Lavin.
It is tucked away off the main thoroughfare, but every so often a traveller trundles by with a suitcase and a bag from the Harry Potter shop at St Pancras.
The story of Somers Town's revolutionary housing is peopled with extraordinary folk.
Irene Barclay, the UK's first female surveyor, joined the society and worked as a housing manager.
Her insistence that "housing is not enough, without a vision people perish " led to clubs, street parties and outings.
Professor Esther Leslie, who is one of the curators, said: "She knew everyone by name and when she was collecting money she'd noticed if a wedding ring was missing and had been pawned and would have a discussion about rent to help the residents."
Father Basil Jellicoe was another celebrated Somers Town social reformer.
The teetotal priest set up the Anchor public house and restaurant and the Tavistock Arms because he said people wanted the social benefits of a pub.
He was one of the leading lights of the housing society and said: "Hospitals, clinics, day nurseries, Scouts' camps, outings and all the splendid work which is being carried on .. (is) practically wasted on those who have to be sent back to live seven or eight in one room without proper air or light, or the mere decencies of life."
Dave Hoefling, who grew up in the area, said: "My dad said he worked himself to death."
Father Jellicoe was just 36 when he died, but his name is celebrated in a hall named after him. A musical was also staged last year to celebrate the 100 years since he arrived in the area.
Edith Neville was also involved in improving housing and founded the St Pancras People's Theatre. Today, she is immortalised, with hundreds of children attending a primary school named after her.
Steve McCarthy, Hidden Walks guide and Somers Town History Society member, said: "It's the cradle of social housing."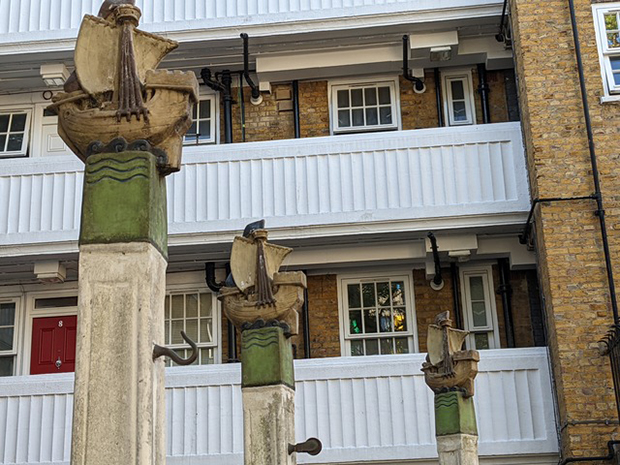 The museum's first exhibition Lost/Found also includes copies of the decorative finials, pottery figures of ships, fairy tale characters and even saints which top the posts for tying washing lines to. They were designed by Gilbert Bayes and epitomised the belief, "Housing is not enough".
Other famous faces include Mary Shelley, the author of Frankenstein, who was born in Somers Town, and a model of the monster is amongst the exhibits in the museum.
The twentieth century saw comic Jeremy Hardy join other squatters in Levita House, and film maker Mike Leigh.
The area was also immortalised in Shane Meadows' eponymous movie and by film-maker Sue Crockford.
The museum has a collection of posters reflecting decades of campaigning, from threats of closure at Elizabeth Garrett Anderson Hospital to campaigns against HS2 disrupting the neighbourhood.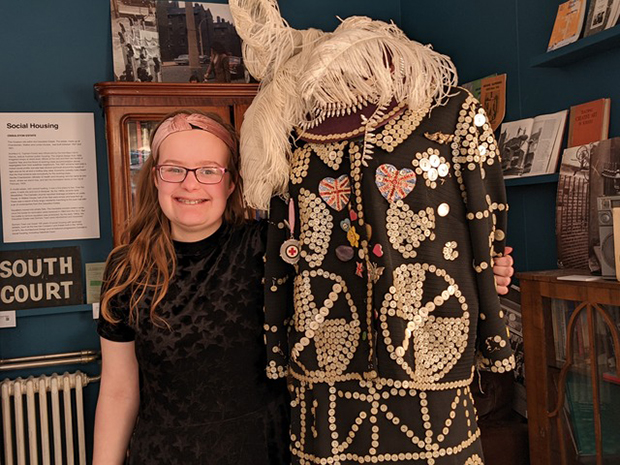 Iris Watson has researched the stories behind the posters.
She said: "When you realise the history under your feet, it brings community back."
She explained: "It's history has a phenomenal nature really. We have had people who have been on the fringes of our consciousness, there were various anarchy groups, there was the Unity theatre. It's got a lot of heritage and it's fascinating in that sense."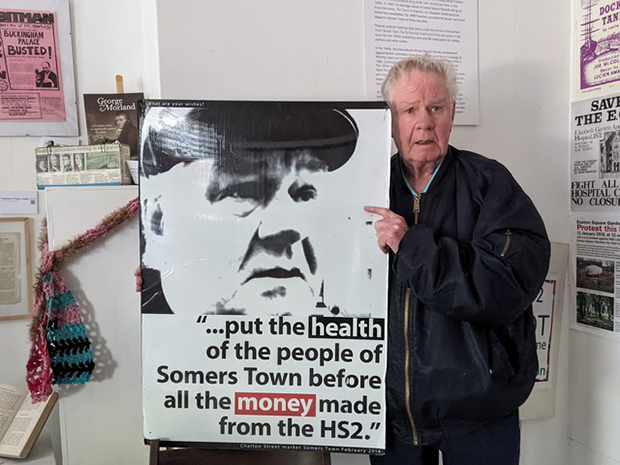 Mr Hoefling, who worked at the British Library just up the road, features in one of the posters.
It reads: "Put the health of the people of Somers Town before all the money made from the HS2."
Today Mr Hoefling, who grew up in the area, said: "I was campaigning against the HS2 because I did not want it down here."
Musician Stephen Denholm was one of the founders of the Somers Town Festival, which is back on this July.
He moved to the area 25 years ago and said: "It's an incredibly interesting place. We have some amazing things here. For me, it's also about the art and music. We found out about Mary Shelley and William Wordsworth who lived round the corner in Chalton Street."
"When I first came to see my flat it was an October day. It was windy and bits of litter were blowing down the street. But I saw the flat and it was huge. Then I noticed the community. People were genuine. They said hello when they saw you in the street."
The festival came after the 1994 murder of Somers Town teenager Richard Everitt and aimed to bring communities together.
At its peak, it attracted 16,000 to 17,000 people to Chalton Street – the heart of Somers Town.
Curator Diana Foster said: "Somers Town is such a place of change and on the edge of development."
"It's vital to celebrate the stories and diversity of this area.
"We have treasures from all over the community in our museum, from the days of poor housing to the beautiful artefacts donated by Bangladeshi residents. It's a place for everybody, and we want everybody to come."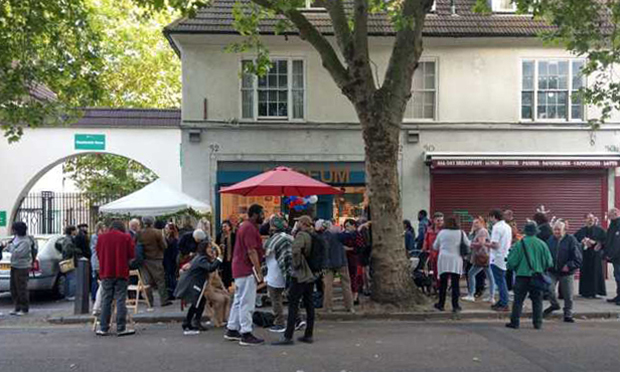 Events at the museum in Phoenix Road include talks and films every Friday from 6 to 7.30pm, a walk and workshop about Gilbert Bayes on 18 June at 1pm and a heritage discussion at 6.30pm on 28 June.
There is also mural painting between 1am and 1pm every Saturday in June.