Deliveroo kitchen told to 'pack up and move on' in victory for Swiss Cottage residents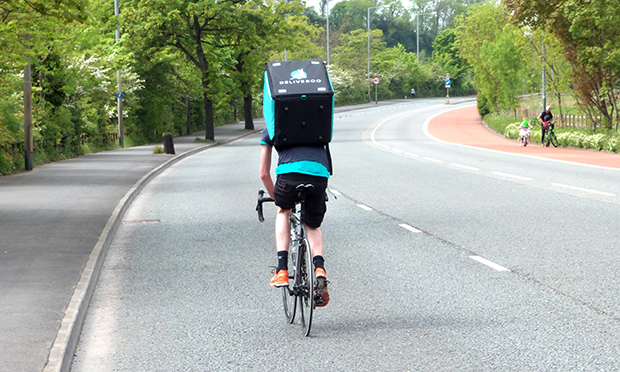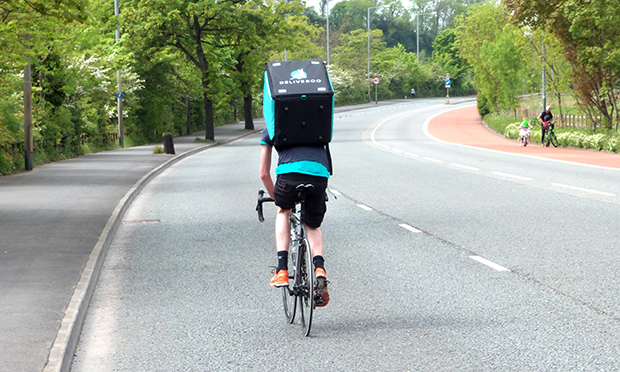 Residents won their battle to tell a fast food delivery company to "pack up and move on" after four years in Swiss Cottage.
People living near Deliveroo's takeaway base and kitchens in Finchley Road said they were fed up with bikes congregating nearby, and cooking smells. 
They clocked 1,800 breaches of the kitchen's operational management plan over the last nine months – about seven a day.
A survey for Deliveroo found just one breach a day over 21 days last summer.
"Residents have provided a mountain of evidence," said Edie Raff, who spoke on behalf of her neighbours at Camden's planning committee.
"The cooking smells from the kitchens continue to invade our homes, gardens and terraces. Riders continue to run red lights, cut across the A41, cycle the wrong way on highways, scare the life out of pedestrians and spread out everywhere while they wait for orders."
She said "nothing has changed" in the days before the hearing.
"There has been no let up to their relentless comings and goings that destroy the amenity of our surrounding streets."
Deliveroo wanted permission to use the building on Finchley Road as nine commercial kitchens and a delivery centre for takeaway food, employing 29 people, plus delivery riders. It would include four flues, e-bike and cycle parking, and ventilation.
It has two marshalls to control delivery cyclists and help them park.
Deliveroo won temporary permission that was granted on appeal in 2019, overturning the council's refusal and enforcement action, and a further short term permission that ran out last December.
Ward councillor Leo Cassarini said he feared that breaches during the trial period showed that Deliveroo was "unserious".
He said cyclists were congregating out of sight of the marshalls by the cinema, library, and further along Finchley Road.
He said with 200 delivery drivers coming in and out every hour, it was an unsuitable sight for the kitchens and it "would be best conducted on an industrial estate".
Deliveroo's David Ives told the planning committee it had taken steps to control the cyclists and it has "listened carefully" to concerns, holding quarterly meetings with residents to resolve issues.
He said the company is "very proud" of the kitchen which helps the local economy and supports 114 jobs and 230 delivery riders. He said it generated £14.2m, with £8.7m staying in Camden.
"We have implemented a strict code of conduct for riders, designed to respect our neighbours, which includes communicating our expectations around noise, behaviour and congregation," he added.
He said the number of riders allowed on site is restricted and there are designated parking bays. Deliveries can only be made by foot, bike or two-wheeled e-vehicles and there are marshalls to ensure the management plan is followed and deliveries are limited at anti-social times.
He said the plan is working, with few breaches identified during last summer's monitoring exercise. and that Deliveroo would appeal the decision if it was turned down.
Odour surveys and "smell tests" by the council and an independent assessor found the cooking smells"are distinguishable but not strong" in a two-metre radius of the flues.
A council report, which recommended allowing the kitchen and delivery to carry on, warned about the difference between "harmful breaches – for example riders cycling on the pavement – rather than technical breaches such as the traffic cones not being in place at the bottom of the ramp".
Camden's planning committee rejected the application over concerns about the location, high frequency of delivery vehicles, odours from extractors and cyclists' safety.