'Spirit of solidarity': Camden politicians urged to extend support for Ukrainian refugees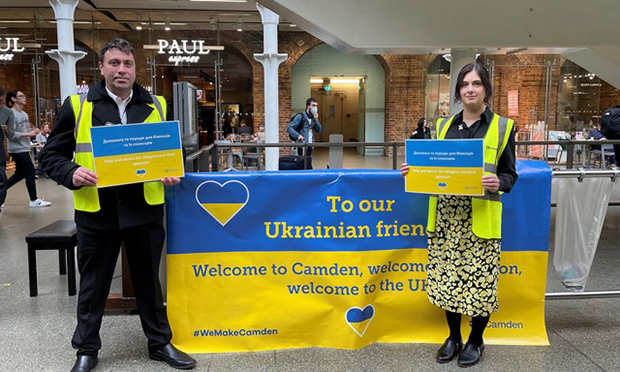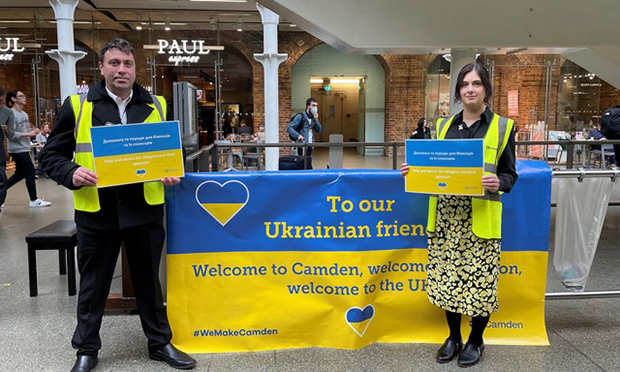 Politicians are being urged to plan long-term support in Camden for people fleeing the war and humanitarian crisis in Ukraine.
At their last meeting before the local elections, councillors held a cross-party vigil for people affected by the devastation in Ukraine, before discussing ways to help.
Resident Peter Ptashko thanked the council for its work to welcome Ukrainian refugees arriving by international train at St Pancras station.
His grandfather came to the UK to flee war and persecution at the end of World War Two and Ptashko said "we hoped it was behind us".
He said offering a sanctuary to refugees including those from the Ukraine and Afghanistan is very important.
Camden Council is running a welcome centre to support refugees arriving at St Pancras. It helps refugees with their onward journeys, offers essential items such as toiletries, food and water, and connect them with relatives and sponsors.
"Camden as a borough has a spirit of solidarity with Ukraine whilst others have done nothing," said Ptashko.
He told Camden councillors the UK could do more to help.
With over four million people displaced by the war, he said "we know this country has not done enough".
"It has not welcomed enough refugees in and I know as a borough we would like to offer more support," he added. "So we simply have to hold the government to account in the sense of taking in more refugees. We have a will, we have to find a way.
"My home country is fighting for peace, justice and fairness on the international stage."
Council leader Georgia Gould said: "The horror and devastation is appalling. There are no words for it."
She said people "don't have weeks" to escape and it is crucial to do everything to provide them with sanctuary.
Cllr Goulds spoke about the touching scenes at hotels in London where children who sought sanctuary from Afghanistan were "waiting with flowers to welcome refugees".
Conservative opposition leader Oliver Cooper warned that refugees sadly may not have the option to return to the Ukraine soon. He wants to ensure that they are given support in-house at the council from people with Ukrainian language skills.
Cllr Gould agreed that people "will be here longer than the six months" of the Homes for Ukraine programme.
South Hampstead synagogue is fundraising to equip 10 operating theatres in Ukraine and hopes to support more.
It also wants to offer a day centre offering "wraparound care" for people so they can enjoy familiar food, songs and culture together after such traumatic times.
Rabbi Shlomo Levin said those who are unable to offer refuge in their homes as part of the Homes for Ukraine programme would be welcome to help.
Jonathan Miller from the American Church on Tottenham Court Road said there needs to be a London-wide response linking potential hosts with refugees.
Cllr Gould said the council could do that if it has the data.
Hospcotch Women's Centre has been working with some of the borough's 700 refugees from Afghanistan and said people helping those fleeing Ukraine need training in trauma and an awareness of people's culture.
Camden Council has also offered space at the Crowndale Centre to the Ukrainian Institute in London to hold events.