Al fresco dining to continue in Belsize Village as councillors make 'miracle' pandemic scheme permanent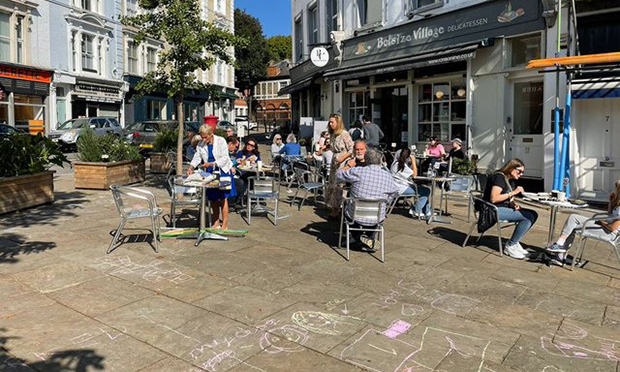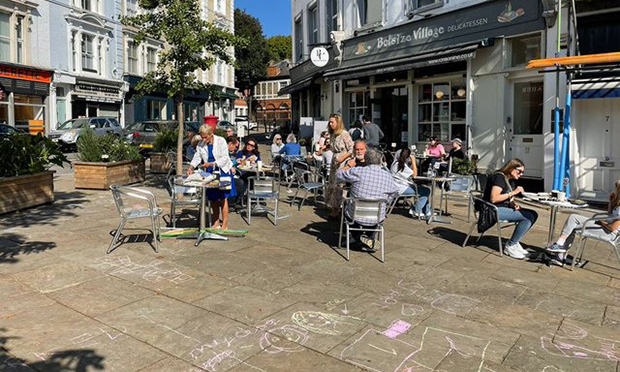 Al fresco dining in Belsize Village can continue after politicians agreed to make its pioneering streatery scheme permanent.
Streateries were introduced to help restaurants and bars survive the pandemic, when they were not allowed to serve customers indoors.
Then housing secretary Robert Jenrick visited the Belsize Terrace streatery in July 2020 when it became the first one in the UK to open.
However, two schemes in Covent Garden will not become permanent.
Camden's licensing committee debated the schemes last week and heard from residents.
The council's head of community safety and public protection Jamie Akinola said the scheme "has been extremely positive and beneficial" for businesses.
But some residents said people have lost public open space.
The Belsize scheme won the support of 255 residents, with 52 objectors.
Robert Stephenson-Padron of the Belsize Village Business Association said the streatery is "nothing short of remarkable" and was "born out of the darkness of lockdown one".
He said a request by retired people to set it up meant traders "could bring light and joy to those most affected by the pandemic and serve as a lifeline for businesses".
The streatery has helped clean up Belsize Village and created a refuge for local workers during the pandemic, bringing people together and creating an "economic renaissance" that saved more than 100 jobs, he said.
Michelle Caplan said the scheme needed more security such as CCTV and suggested extending the table and chairs licence to September to help the council monitor it.
Some residents called for a compromise to reduce the amount of space used by businesses.
Nikolaos Panigirtzoglou urged the council: "We cherish our community space and our square always had a purpose in the past, used by other local businesses outside restaurants, by residents as meeting place, as outdoor space for residents with no garden, and as a playing area for children."
He said residents felt the space is under-used as a streatery since restaurants are allowed to serve customers indoors again.
He added: "Our area is full of families with children that no longer feel welcome in a square typically occupied by empty aluminium tables and chairs and with old benches repositioned to the shadow away from the sun."
Cllr Oliver Cooper, who supported the scheme and is the Conservative spokesman for community safety, said: "The revitalisation of Belsize Village has been nothing short of a miracle in the last two years."
He said footfall went up by 112 per cent and the number of empty buildings was reduced.
The Covent Garden Community Association said the majority of residents were against keeping the streateries in Earlham Street and Neal's Yard.
Concerns in Earlham Street include noise from customers drinking alcohol and fears that the streatery has changed the character of the area.
People were worried about the loss of public space in Neal's Yard when the streatery was set up.
Dr Alyson Thompson said the council should call last orders on the streatery in Covent Garden: "Walking into Neal's Yard on a summer afternoon used to be a magical experience – no longer.
"It is no longer somewhere to linger but somewhere to pass through quickly or avoid, unless you are stopping to eat at one of the restaurants."
She added: "The loss of this public space for private gain might have been acceptable when the businesses couldn't trade inside, but this restriction ended more than nine months ago."
Committee chair Richard Cotton said streateries have been successful in some areas and not in others.
He said he thought "there is absolutely no place" for the two streateries in Covent Garden and councillors rejected the two schemes in Earlham Street and Neal's Yard.
Steve Adams said a reason to make the schemes more permanent would allow Camden to control the streatery.
He said the council should impose conditions on the bin stores and width of passageways for passers by and liaison with residents.
Cllr Jonathan Simpson said the future impact of the pandemic is uncertain and urged people to support local businesses.