'Eyesore' phone boxes used by drug dealers or prostitutes need to be removed, say councillors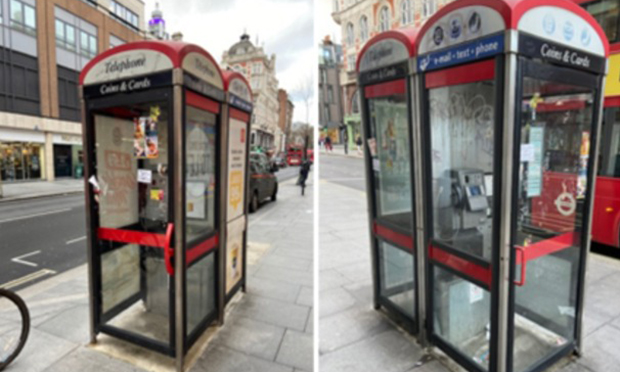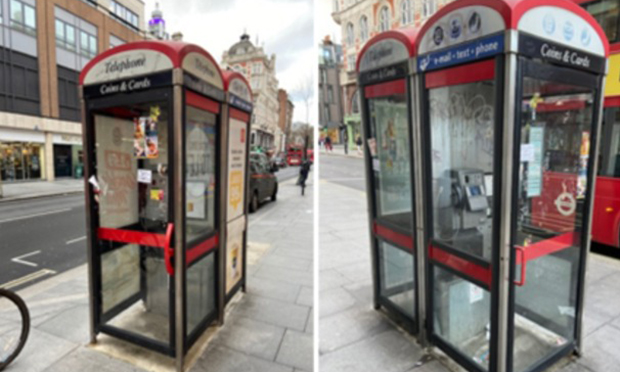 "Eyesore" phone boxes used by drug dealers or with advertising cards for prostitution should be removed, Camden councillors have said.
With the growth in mobile phone ownership, the use of telephone boxes, or kiosks, has diminished and some are used for illicit behaviour.
Camden Council has been trying to take action against kiosks which are poorly maintained to remove them from the streets.
Resident Duncan Bartlett made a deputation to the council's culture and environment scrutiny committee over some kiosks which are in a poor state and attract "shadowy, if not criminal activity".
He was concerned that some phone boxes outside Russell Square tube station are used for the exchange of illegal drugs and also as a place to post stickers which are "extremely hard to remove" and advertise the phone numbers of sex workers.
He is also concerned that people relieve themselves in the kiosks.
He added: "The phone boxes appear to be very unhygienic, with rubbish thrown in them.
"All in all they are becoming a bit of an eyesore."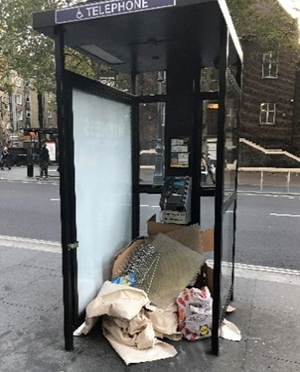 Committee chair Cllr Awale Olad said there were many kiosks in his Holborn and Covent Garden wards which are "completely unused, absolutely trashed, disgusting, drugs dens, with adverts for prostitution and lots of pornographic images inside".
He said: "We don't want any more of these phone boxes and we need to get rid of some of them."
The council's head of development management Bethany Cullen: "We can't seek the removal of a box just because it's being used for anti-social behaviour, we have to demonstrate that it's not being maintained or doesn't work or is not being used."
The council has issued planning contravention enforcement notices on the operators of 33 phone kiosks on Tottenham Court Road. It said many of the kiosks are "poorly maintained, not working and/or are a focal point for anti-social behaviour, including drug supply and consumption".
Cullen said it was anticipating there might be appeals against the move.
She said: "There are many phones boxes in our borough which are no longer used for that purpose."
It is very labour intensive to get evidence of how often phone kiosks are used for calls, she said, and the Fitzrovia Partnership had helped out by taking photos to build up evidence.
By 2015, the majority of UK homes had mobile phones, compared with just 16 per cent in 1996, leading to a drop in demand for call boxes.
Telecommunications companies have applied to replace the old kiosks with hubs which include digital adverts, phones and wi-fi.
Cullen said some of them in Camden Town and Euston were used by drug dealers to exchange drugs.
"Calls were really high around certain panels – all the calls were very quick, just a couple of seconds," she said.
The council worked with the phone operator and turned off call facilities entirely at some boxes and tried to use algorithms to control repeat calls from the same numbers.
"That did not really address the issue and it continued to be a problem," she said.
Chief Inspector Richard Berns said police were considering closure orders on some kiosks in Seven Dials in Covent Garden.