Conservatives call for 'dramatic expansion' of invisible tracing liquid to make Camden 'burglary-free'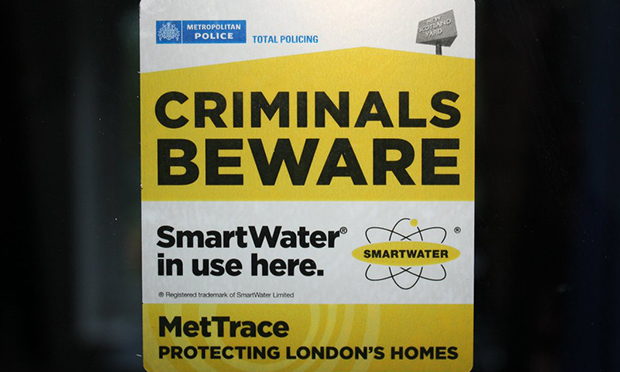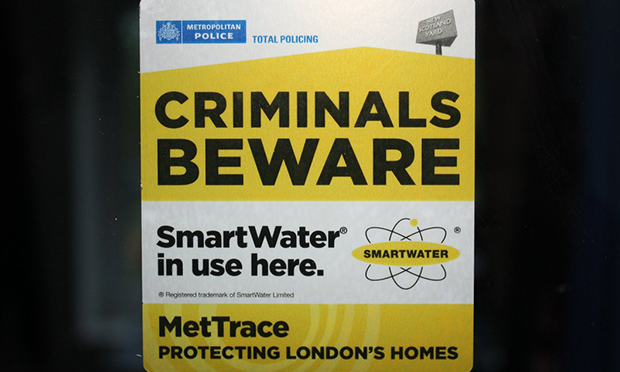 Camden's Conservative group of councillors have called for the council to provide support to the Metropolitan Police to enable a "dramatic expansion" of an invisible tracing liquid which acts as a burglary deterrent.
SmartWater, which glows under UV light for at least five years and is "almost impossible to remove", is set for a roll-out in spring of this year as part of the police's MetTrace scheme, which has delivered over 365,000 property-marking kits to London homes since it began in 2015.
Now Conservative group leader Cllr Oliver Cooper (Con, Hampstead Town) is calling on the Town Hall to become the first "SmartWater council" by providing funding to maximise the number of verified "SmartWater streets", where more than half the homes use and advertise the substance.
A motion written by Cllr Cooper and seconded by Cllr Steve Adams reads: "This council notes that in some areas where deliberate efforts have been made to achieve these levels of saturation, burglary has fallen by 94 per cent: effectively eradicating burglary and reducing thefts from motor vehicles by over 80 per cent too.
"This council welcomes the Met budgeting to distribute 440,000 SmartWater kits over the next five years, but notes that this is just 12 per cent of homes in London, not the 50 per cent plus required in any area to sufficiently deter burglars and dramatically reduce burglaries.
"This council notes that deploying SmartWater sends a powerful signal that Camden will not tolerate anyone being a victim of burglary and is committed to showing criminals that there are no soft targets in our borough."
If passed at the forthcoming full council meeting, the Conservative motion would commit the council to allocating its publicity budget to promoting SmartWater "to let criminals know that it is systematically deployed" across the borough.
The liquid was invented in the 1990s by retired detective Philip Cleary and his brother, chemist Michael Cleary, who now run private company SmartWater Ltd.
Each bottle of SmartWater is understood to have its own "unique forensic signature" which can tag items or even burglars themselves.
The substance has a 100 per cent conviction rate when used as evidence in court, according to police.
The Metropolitan Police said: "SmartWater is a way for police to definitively link your valuable items to you.
"If we recover a stolen item that has been marked with SmartWater, such as a bicycle, we can use forensic analysis to identify the address where the SmartWater is registered and return the bike to its rightful owner.
"Not only does it give you peace of mind, it gives police around the UK a better chance of reuniting owners with their recovered items and catching the criminals that benefit from crimes like theft, burglary, robbery and handling stolen goods."