Secrets strip club 'put on warning' after inspection reveals dancers being touched by customers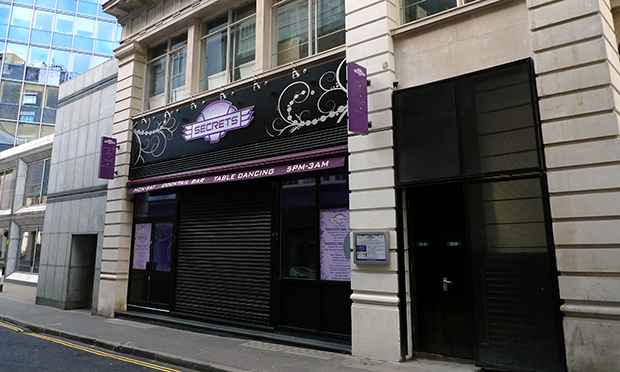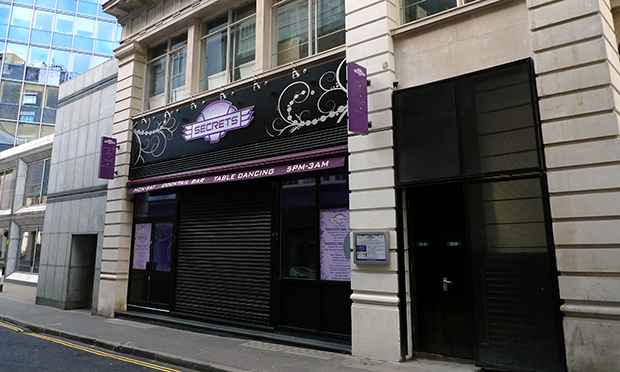 A Holborn strip club has been 'put on warning' by councillors after an unannounced visit revealed dancers were being touched by customers, in breach of the venue's licence.
Secrets on Parker Street was hauled in front of Camden's sexual entertainment venues licensing committee after no security staff were found to be present in the basement, which customers and performers were using unsupervised.
However, councillors admitted that they were "a little bit puzzled" when Town Hall licensing officers appeared to play down the breaches in the licence in a presentation this week.
Officers said: "There was touching seen, but nothing of a sexual nature. A performer was there, and a gentleman's arm reached out to touch her thigh, or something like that. That was about all we saw.
"At that point we mentioned it to management, and they did go down and have a word with performers. We looked around and were pretty satisfied with what we found on the night."
The meeting was the scene of often impassioned arguments between representatives of Secrets and campaigning group Not Buying It, which "challenges the porn and sex trade because of the incredible harm associated with them".
Not Buying It campaigner Dr Sasha Rakoff attempted to present evidence of further licence breaches by the Secrets chain, including evidence of police concerns over assaults taking place at clubs, from the council's own records, but was prevented from doing so for procedural reasons.
Secrets has stated that the allegations are "just not borne out" by the clubs' record, though Cllr Angela Mason said: "I am concerned about some of the allegations that the interested parties have raised. They were raised, so we can't ignore them completely.
"Unfortunately, they've not given evidence for thier allegations and the applicant has denied them, so I don't think we can give weight to them. At some stage, it would be interesting to find out what the truth is."
Minutes from the sexual entertainment venue committee held on 25 January 2018 around the Eversholt Street branch of Secrets indicate a discussion around a dancer being assaulted, with the matter not reported by police.
Committee chair Cllr Thomas Gardiner (Lab, Kilburn) underlined to the officers that the Town Hall relies on venues to self-police, with the breaches observed "calling into question our ability to rely on operators to self-police when you're not there".
Officers were asked whether the venue remained "under observation", but responded that this referred only to the ongoing inspection regime.
Secrets was quizzed on its financial records, with Cllr Gardiner stating that he was struggling to reconcile statements by chain owner Stephen Less that the chain was running at a loss, with research he had performed on Companies House indicating an increase in the company's profit and loss reserves.
Less responded: "I would need to bring our accountant here to specifically answer your point. We have been losing money for the last few years and I have been supporting the group to keep it going.
"Fortunately, I think we are now turning the corner, but it's been a pretty anxious three years. We hang on waiting for the economy to change, and it's early shoots at the moment.
"As far as explaining the situation, our accountant can tell how he constructs the books. There's nothing untoward, and you've known me a long time, there's nothing untoward."
Cllr Gardiner made clear to those present: "Like lots of us here, we've known each other through these meetings."
The club has now in effect been given a "yellow card" by councillors, with any further breaches to be taken as evidence of a "continuing problem" by the committee.
A representative for Secrets said: "What you've got here is an operator with a really good record of coming here without objection. These premises are run by humans, and some laxity clearly crept in. The reaction was immediate, procedures were changed, training took place, and apologies were made.
"I have to say that you see a whole range of breaches. You see performers who are jiggling around on people's crotches, or performers who are touching themselves sexually intimately, and in the light of the record of these premises, maybe the right thing to do is to say your card has been seriously marked.
"We have not found in the records these serious allegations of GBH, credit card fraud and sexual touching of the kinds which were alleged."
The committee's decision to not go so far as to revoke the club's licence hinged on the absence of police or licensing recommendations to do so.
Not Buying It said: "It is extremely concerning that the council were not aware of these past incidences, particularly as many were featured in the 2020 Sophisticats report pack, whose hearing was scheduled before the hearings of either Secrets Parker St or Secrets Grays Inn Rd.
"Even though the Sophisticats hearing was adjourned, it was still held before the hearing for Secrets Parker St. Even then, the council still did not appear aware of these reports."