Parties come together to pledge 'shoulder to shoulder' support for LGBT+ residents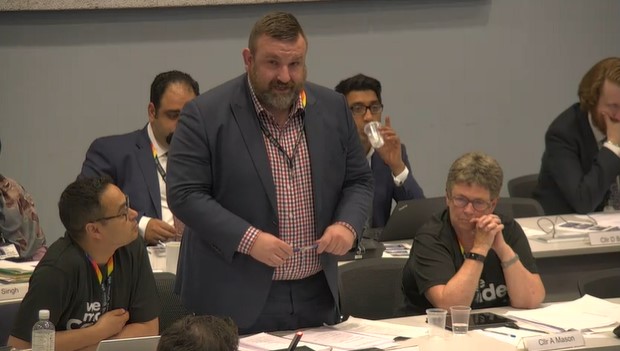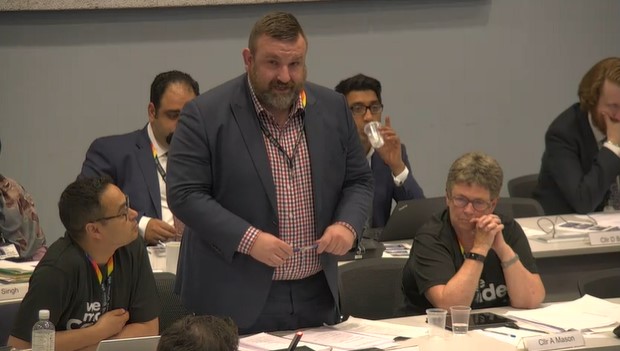 Camden Town Hall saw a cross-party show of unity in support of LGBT+ rights on Monday night, with members of both sides of the political divide coming together in the wake of London's Pride celebrations on 6 July.
During a themed debate on championing the LGBT+ community, emotional tributes were paid to support organisations represented in the Town Hall.
Cllr Jonathan Simpson (pictured, Lab, King's Cross), who opened the debate, singled out for praise the Albert Kennedy Trust, which helps LGBT+ homeless people, for helping him when he was 16 years old.
Cllr Simpson, who is cabinet member for promoting culture and communities, said: "It's really difficult to sum up the last 50 years in a three-minute speech. It was only 52 years ago that in England and Wales the law was changed and homosexuality was decriminalised.
"I am so proud that many LGBT+ members of the council were [on the Pride march] with us, but also many members who are straight were there to support us, and it means so, so much.
"We stand shoulder to shoulder with our LGBT+ residents, and will continue to do so. We fought back during difficult times – there have been many, and I have no doubt there will continue to be many."
Cllr Simpson added that he found it "depressing" that Labour MP Roger Godsiff had told anti-LGBT education protesters in Birmingham that they were right, going on to praise the government for trying to ensure that the Equality Act continues to be enforced.
Also represented at the debate were: LGBT+ telephone helpline Switchboard; Gendered Intelligence, whose mission is to increase understanding around gender diversity; educational and advocacy charity KeshetUK, which supports Jewish LGBT+ people; popular badminton club Goslings; Opening Doors, which supports LGBT+ over-50s; and Mosaic Youth Centre.
The Forum, formerly Camden LGBT Forum, thanked the council during the discussion for its "steadfast support", going on to call for better results in reducing antisocial behaviour in the borough.
Council leader Georgia Gould (Lab, Kentish Town) revealed that she met on Monday morning with one of the young women who suffered a misogynistic and homophobic attack on a Camden bus on 30 May.
Cllr Gould said: "Her first message for us was that hers is just one of so many attacks and harassment that happens in our community. There are so many stories that do not get told, and she said we need to make sure we are investing in advocacy. It is so important that we as allies are standing up and playing that advocacy role.
"We cannot be complacent about those hard-fought rights or where our community is about those issues. We need to actively work together to continue to change.
"What kind of atmosphere do we have that allows this hate to rise. We're seeing hate rise in all different ways. We've talked about the impact of austerity, inequality, and something about the division and hate we see in our society. In everything we do, we must remember our kindness and our common humanity."
Between 2017 and 2019 in Camden, there were 232 homophobic hate crimes, including a 36 per cent increase in those crimes over the two years, along with a 52 per cent increase in transphobic hate crime.
Cllr Oliver Cooper (Con, Hampstead Town), leader of the opposition, said: "Pride on Saturday sent an undeniable signal that we are better with inclusivity, and celebratory of the freedom to be who we are and the freedom to love who we love. That is undeniable, non-negotiable, and cannot be taken away from us."
The cross-party unity was marred only by a dispute which arose between Cllr Henry Newman (Con, Frognal and Fitzjohns) and leader of the Liberal Democrat group Cllr Flick Rea (Lib Dem, Fortune Green) over a T-shirt.
Cllr Newman's said his donning of the garment, bearing the words 'We Make Camden Proud', put him in the "unusual position" of wearing a T-shirt with a slogan when the Liberal Democrats were not.
The comment angered Cllr Rea, who responded: "I think I'm entitled to wear what I want at my age, and if I don't want to wear a t-shirt I won't, and seeing as you've got yours on over a shirt, a very strange fashion item if you ask me, I'm not about to be lectured.
"Normally there is more that unites us than divides us, but I will not be lectured by those who should know better."
The two councillors later exchanged apologies, with Cllr Rea adding that she was sorry if she had caused an "unseemly scene", adding: "I just don't like being got at."