Maryam Eslamdoust elected as country's first female Iranian Mayor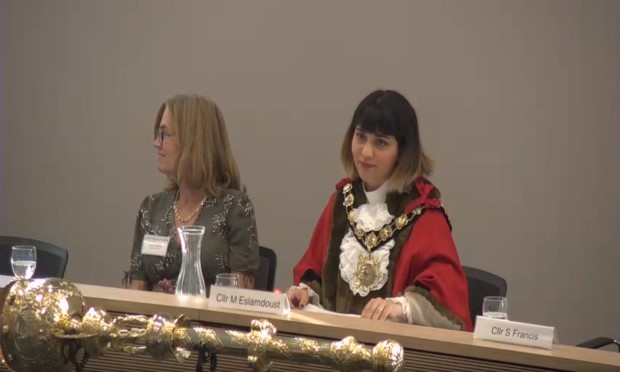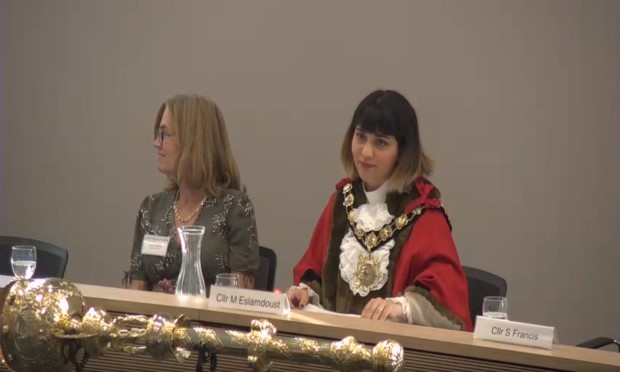 Cllr Maryam Eslamdoust (Lab, Kilburn) has been elected as Mayor of the London Borough of Camden for 2019/20.
The Kilburn councillor will be Britain's first female Iranian Mayor, as well as the first Mayor of Camden to give birth during office, as she is currently eight months pregnant.
In an emotional tribute, Cllr Lorna Russell (Lab & Co-op, Fortune Green) praised the incoming Mayor's "powerful and emotive" speech condemning Donald Trump's ban on Muslims, her campaigning against the roll-out of the HS2 transport link in Kilburn and against fixed-odds betting terminals (FOBTs) whilst chair of the licensing committee.
Cllr Eslamdoust said: "In many ways, my story is a classic Camden story. I'm a first generation immigrant who studied in two of Camden's universities, married in a Camden church, and hopefully will deliver my baby in a Camden hospital in the next few weeks.
"I begin this new chapter in my life as the first Iranian-born woman to become Mayor in this country, as well as Camden's first woman to give birth whilst acting as Camden's first citizen.
"I mention my Iranian-ness here not because I think that being the first somehow makes me a better Mayor, but because like many other minorities in our borough and the country, it can be hard being an Iranian, to be accepted for who you are, to get on in life, and to not be judged by prejudices about your home country.
"Becoming Mayor feels like a big step in acceptance, and I pledge that throughout my mayoralty, I will work hard to make the marginalised feel accepted."
Cllr Douglas Beattie (Lab, Kilburn) said it was his "great privilege" to nominate his fellow Kilburn councillor for the role, saying: "Maryam is perfect for this role in so many ways. I've seen the depth of feeling that she has about the life of this borough and all our communities, but above all, as a good socialist, about people.
"Cllr Eslamdoust is set to be the borough's first Iranian mayor, and the first to give birth while in office. What a consummate politician – a baby at the ready to kiss at every photo opportunity.
"She strives daily to make Camden and well beyond a much better place. I'm proud to call her my fellow ward councillor and comrade, and prouder still to call her Madam Mayor."
Cllr Eslamdoust added that at a time of "intense danger" of potential war between Iran and western countries that it was important to underline that Iranians are not "warlike people."
She also spoke out on the importance of tackling the "grinding hell" of domestic abuse, and called on others to "offer help, acknowledge, and never turn away."
Cllr Eslamdoust's appointment was also welcomed by Camden's other political parties.
Cllr Gio Spinella (Con, Frognal & Fitzjohn's), deputy leader of the opposition said: "We look to the Mayor to protect all the multiple voices in Camden. Good luck, Maryam – may your turn as Mayor be a successful one, and may the only times you ever appear in the press be because of your role as Mayor."
Cllr Tom Simon (Lib Dem, Belsize), deputy leader of the Liberal Democrat group, said: "I served with Maryam on the licensing committee of which she is chair, and she did so in a very calm and evenhanded and fair manner, qualities which I think will serve her very well as Mayor over the next year."