'Absolute rubbish': Housing crisis sparks heated exchange at council meeting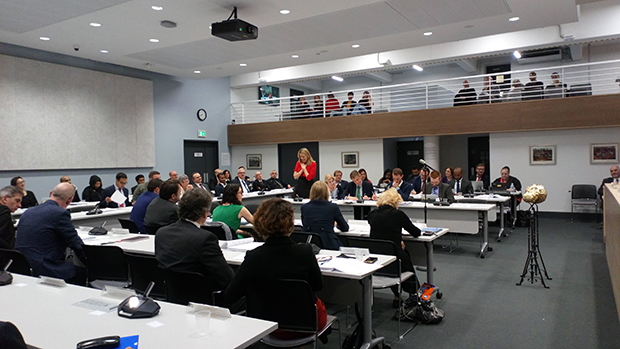 The leader of Camden Council has called on central government to go further to help local authorities address the housing crisis by reintroducing grants for social housing.
Cllr Georgia Gould (Lab, Kentish Town) made her remarks after the recent announcement by Prime Minister Theresa May that a cap on borrowing against councils' housing revenue will be lifted.
Both Labour and Conservative councils have complained since the cap's imposition in 2010 that a limit on borrowing against Housing Revenue Account assets is an obstacle in funding new developments.
Cllr Georgia Gould (Lab, Kentish Town), leader of Camden Council, said: "We don't know why it's taken so long for them to do this, but we're happy that it's happened.
"I don't think we should make any mistake that this is going to replace social housing grants.
"In Camden we have continued to invest in new council homes, and the lifting of the borrowing cap will help us with that program, but we still need to find the money to build those homes.
"We call on the government, if they're really serious about this, to go further and reintroduce grant funding for homes."
The 8 October full council meeting had been set to debate a motion put forward by Camden's Conservative group to hold a review into the borough's Community Investment Programme (CIP).
Launched in 2010, the CIP is a 15-year plan investing over £1 billion in schools, homes and community facilities in the borough, with an ambition to build 3,050 new homes and what is described as 35 tennis courts' worth of community facilities – 1,365 square metres.
The council predicts 862 new homes will have been delivered by the CIP by the end of 2018.
To shouts of "absolute rubbish" from Labour councillors, Cllr Oliver Cooper (Con, Hampstead Town), leader of the opposition, described the CIP as "failing miserably", and called for an urgent, independent review of the programme.
Cllr Cooper said: "Only 170 homes began construction in this borough in the last two years, the fewest of any London borough.
"There are over 5,500 council homes in this borough that have failed the decent homes standard, the second highest in the country, costing us £43 million last year.
"The Community Investment Program has failed miserably, and is costing us tens of millions of pounds a year that could deliver the services, the investment and the financial revenue that is required.
"The CIP needs to be reviewed, because it's failing."
Camden Council has committed to making sure homes in the borough are "safe, well-managed and well-maintained" as part of the Camden Plan stretching through to 2025.
The borough has struggled with housing quality in the past, with reports in 2015 that 28 per cent of housing stock was deemed 'non-decent' under the Decent Homes standard, which requires social housing to be in a reasonable state of repair.
The standard also calls for homes to meet a number of criteria around safety, a level of modernity in its facilities and services, and to be reasonably warm.
Following Cllr Cooper's remarks, Cllr Gould said: "I make no apologies for us investing in high-quality social housing. Social housing designed with our tenants, and that is winning awards.
"In 2017/18, we completed 390 new homes, 250 homes more than any other local authority in London. I don't remember the last time Westminster built a new home.
"What I would ask from [Cllr Cooper] is to get behind this council in calling for the money that we desperately need. London has lost 63 per cent of its public services, and it is shameful."
A debate on the Conservative motion to review the CIP was not held due to time constraints.