Campaigners urge council to scrap use of 'toxic' weedkiller linked to cancer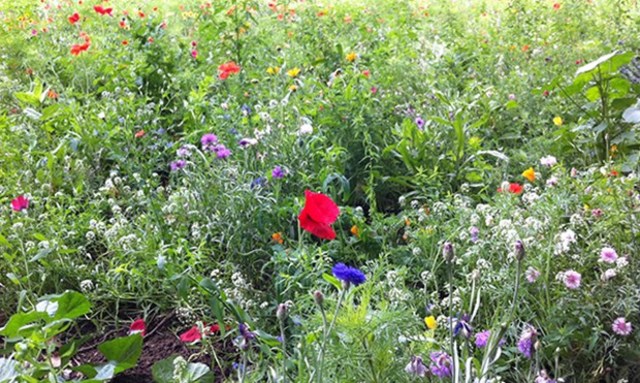 Campaigners have made an impassioned plea for Camden Council to stop using a controversial weedkiller linked to cancer.
A petition signed by more than 900 people, titled 'Stop using toxic Roundup weedkiller in Camden', was delivered at a full council meeting on 8 October.
Fears surrounding the use of the herbicide glyphosate, which is found in Roundup, have grown after a US court ruled earlier this year that agricultural giant Monsanto was responsible for causing the cancer of groundskeeper Dewayne Johnson.
Johnson was awarded $239 million in the landmark case, and now may have only months to live after being diagnosed with rare blood cancer non-Hodgkin lymphoma.
Kirsten De Keyser, who presented the petition, said: "We know that we need to eliminate toxic substances wherever we can and this is one area where we can.
"It has been stated that to a reasonable degree of scientific certainty, it is clear that glyphosate likely causes cancer, particularly non-Hodgkin lymphoma.
"A few months before the US court case, I had lost a dear elderly friend here in Camden to non-Hodgkin lymphoma. A keen gardener, he too had been a local authority groundsman for most of his working life.
"We are asking the council for a clean, safe, green environment that we can enjoy without putting our health and that of our families at risk."
A 2015 World Health Organisation (WHO) evaluation of glyphosate found the chemical is "probably carcinogenic to humans", with "limited evidence" linking it to non-Hodgkin lymphoma.
De Keyser added that the GMB Union called for a ban on the weedkiller last month, and pointed to other local authorities employing different approaches, including Hammersmith & Fulham, Edinburgh, Bristol, and Brighton & Hove.
Hackney Council announced last month that it would be adopting a "new approach" to glyphosate, reducing the length of road sprayed by 100 kilometres and undertaking a comprehensive review of its use.
Pesticide Action Network UK policy officer Nick Mole said: "It's the same thing as you'd use in your homes and gardens, but more concentrated when used professionally.
"Given the knowledge and everything we know about it, would a council be held responsible if one of its employees were to fall ill as a result of glyphosate? It's something I think councils should be thinking about.
"There are an awful lot of alternatives available, and it's really up to the council to do some pilot testing of these."
Speaking in response to petitioners, Cllr Adam Harrison (Lab, Bloomsbury), cabinet member for improving Camden's environment, stated that no immediate action would be taken on the use of glyphosate in the borough.
Cllr Harrison said: "As ever, it's great to see democracy in action here in Camden. This is a live issue. As you've noted, there are a number of events taking place around the world, and I've been following them very closely.
"This is something we're keeping very much under review. The way glyphosate is used in Camden is very targeted, as the use of any chemical on our streets should be. It's not being sprayed around in an indiscriminate way.
"We're actually trialling a new machine at the moment that uses infrared technology to make it even more targeted, and the operatives who use it are highly trained and have protective equipment.
"The WHO report certainly sounds alarming. They categorise it as 'probably carcinogenic', and that is one of the reasons that we are looking at it closely. Also within that category is working nightshifts, and alcohol is classed as 'carcinogenic,' so it's a more serious rating. That's just a bit of context.
"We'll also be looking at how the jury's decision in the Monsanto trial progresses up the US justice system. There also hasn't been any change in guidance across the UK.
"We've been speaking to our neighbouring North London boroughs, and they've been doing the same as us – keeping it under review and using it in a very targeted way."
Cllr Harrison went on to cast doubt on other local authorities' claims to have stopped using glyphosate, stating that it would be difficult to remove plants such as Japanese knotweed without it.