'Lutes, lutes, lutes!': Filmmaker Laura Stratford on her new documentary, #MeToo, and why she's on the tail of Elaine Paige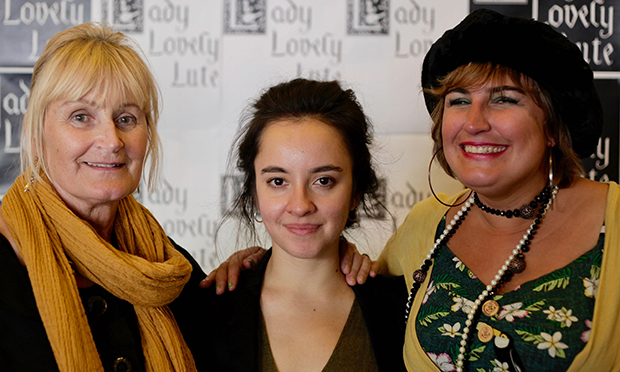 Since becoming infatuated with a little toy camera while at primary school in Crouch End, Laura Stratford has always known she wanted to be behind the lens.
Now, still only 26 years old, the London-born filmmaker has already had her first taste of success in the industry.
Her debut documentary Lady Lovely Lute, which tells the story of musician and brain injury survivor Stephanie Feeney, premiered at Hackney's iconic Rio Cinema earlier this month – a feat that would make directors many years her senior fizzle with envy.
Sitting down with the Citizen a few days after the event, Laura spoke in depth about the making of the film, what the experience has taught her about brain injuries, the #MeToo movement, and why she is not giving up on persuading musical star Elaine Paige to come to the next screening.
Laura is softly-spoken but incredibly thoughtful in her answers, particularly when talking about the craft of directing – the position of the camera, the picture quality, editing down hours of footage and home videos.
But after spending more time with her, it becomes clear that the human side of the role, the relationships with her subjects, has left a lasting impression.
She formed a close friendship with Stephanie, who took up the lute after she was hit by a car in 1994 at the age of 11 and suffered extensive damage to her frontal lobe, after a chance meeting at a London Film Festival event in 2011.
Laura was there as a reviewer, and was nursing a drink at the bar after a long day when Stephanie, dressed as Charlie Chaplin – she had earlier been performing as part of the festivities – came over and immediately launched into conversation.
They swapped numbers, and when a film project fell through a year later, Laura phoned Stephanie and set about convincing her to tell her story.
"Stephanie was very worried at first," Laura says. "I think mainly about the film not turning out as she would want it to. But I explained that I wanted her to tell her own story.
"Once she agreed, we just leapt into her world. We shot for two weeks, and at one point, we found ourselves in the caves below Covent Garden talking to street performers – it was bizarre."
Stephanie, now 35, is a musician and radio presenter, and can often be found introducing crowds outside The Globe Theatre to the delights of the lute – an instrument that features heavily in the plays of William Shakespeare.
Her life as a "wandering minstrel", as Stephanie herself puts it, means her social circle is full of interesting characters.
Laura spent two weeks in the summer of 2012 filming Stephanie's every move, and the result is a charming, funny and enlightening peak into her life and the hard realities of living with a brain injury.
Sixty people turned up to see the premiere, organised in partnership with brain injury charity Headway East London – which will receive all the proceeds from ticket sales.
The audience were treated to a live performance by Stephanie, who later joined Laura for a Q&A session after the film.
"I've always wanted to give this film a premiere," Laura says. "To do it with Headway, which has a close connection to Stephanie, is just amazing. We've had so much support, and the reaction has been incredible.
"It was particularly nice to hear from Headway volunteers that the film has given them more of an insight into what living with a brain injury can be like."
But it has not been easy, Laura explains.
Making the film was a "long and challenging" process, with Laura initially struggling to find time to work on it while studying for an English Literature degree at York University, and more recently juggling it with her job in the festivals department at the British Film Institute.
"It has been a long road, but it has culminated in the screening, and it's so nice to be able to finally show it."
Despite her own achievement in making the film, what comes across more than anything is Laura's admiration for Stephanie, and her eagerness for the film to play a role in helping people understand more about brain injuries.
"Someone is admitted to hospital every 90 seconds with a brain injury, and, although awareness about it is certainly improving, it still feels like quite a taboo topic. And I think people forget that you never fully recover from a serious brain injury – it's an ongoing process."
She was struck by the "many different elements" at play in the film  – whether it's Stephanie herself, her friends and colleagues, the doctors and support workers who continue to help her, the recovery process, or her family.
"I quickly realised that this film would be about so much more than following Stephanie – particularly after speaking to her mum, Annette."
There is a poignant moment in the documentary when Annette talks candidly about what happened to her daughter, and the struggle she has faced, and still faces, in supporting her.
"I'm so grateful to Annette," Laura says. "She gave me so much time, and provided me with all the home videos, which I think really add to the film – you get a real sense of what it was like for all of them in the aftermath of the accident."
At one point on camera, Annette understandably becomes quite emotional, and Laura says it was an important learning experience for her as a filmmaker.
"It really helped me develop a sense of how to navigate through very sensitive topics.
"I tend to start filming with a general idea of where to get to, but in this case I took a step back and just let Annette speak, and what you see is a natural, organic response from a mother talking about her daughter."
Laura's advice for aspiring documentarians is to "find an interesting story and go with it".
"Real life is often more interesting than fiction, as they say."
But she hinted that her next project might be in fiction – "I still want to experiment with different forms" – although she is open to making another documentary "if the story is right".
After deciding against taking Lady Lovely Lute to festivals as it "just doesn't feel like the right audience for the film", Laura revealed that plans are now in place for a screening at The Lute Society, where Stephanie is a member, next summer – also in support of Headway.
And this time, she will "make sure Elaine Paige is there as guest of honour".
In the run-up to the Hackney screening, Laura tweeted two handwritten notes to Paige, inviting the musical theatre star to come along. Sadly there was no response.
"My heart is breaking," Laura says. "Stephanie is such a huge fan of hers. She saw her perform at Tadworth children's centre when she was recovering from the accident, and it was such a big inspiration to her.
"But I'm not giving up – she'll be at the next screening, I promise!"
Before time was up, we asked Laura, as a young, female director, for her thoughts on the recent #MeToo movement, which has arisen from the abuse allegations surrounding film impresario Harvey Weinstein.
"It is such a huge issue," she says. "I've certainly experienced countless examples of misogyny over the years, even when I was a lot younger. There have been moments when I've been completely fed up with men. But it feels as though, finally, we're having a proper discussion."
She adds: "Looking at the film in retrospect, and the fact that it features a strong, inspirational lady in Stephanie, it feels quite timely to be screening it now. And I hope there is more to come from women who want to add their voices to the subject – and there are many ways of expressing an opinion, even creatively.
"But I don't want this to be all about that. Stephanie is amazing and I really want to get her story out there. Lutes, lutes, lutes, lutes, lutes!"
Lady Lovely Lute will be screened at 3pm on 11 May 2019 at The Lute Society's annual meeting at Dutch Church, 7 Austin Friars, London, EC2N 2HA. Entry will be free.
For more information about Headway East London, head to headwayeastlondon.org