Eruv gets go-ahead as council reveals removal of antisemitic objections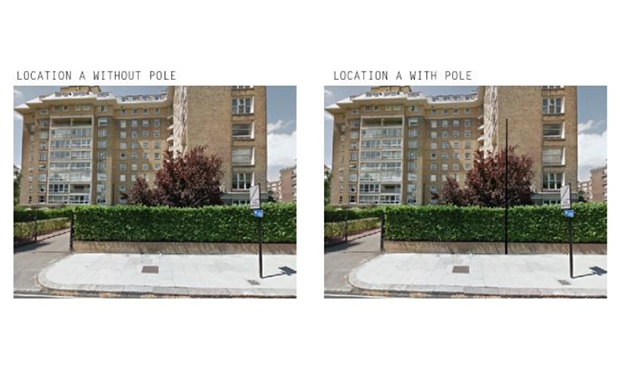 A symbolic boundary allowing orthodox Jewish people to move freely within its confines on the Sabbath has been given the go-ahead by Camden Council's planning committee.
Officers also revealed that a number of objections could not be published due to their antisemitic nature – with one councillor finding this "shocking" and "unacceptable".
The Camden eruv – a Hebrew term short for 'eruv chatzeros', or unification of courtyards – will fill in a gap between the already existing North West London and Brondesbury eruvs, as well as joining on to the proposed North Westminster eruv.
Talmudic law forbidding the carrying or pushing of items such as prams or wheelchairs in public on the Sabbath – sunset on Friday to sunset on Saturday – is relaxed within an eruv.
Utilising existing walls and fences, planning permission was given on 20 September to the erection of a total of 49 sets of poles, each up to 5.5 metres tall, connected by wire to fill in the gaps where no natural boundary exists.
The poles, 76 millimetres in diameter, will be painted black, and set back from the pavement in order to unobtrusively blend in with Camden's "street furniture", according to the council.
The Camden eruv has been the subject of debate in the community since a public consultation on its establishment was held by the council in 2016.
Its application attracted objections from Hampstead, Mansfield and Eton conservation area advisory committees (CAACs), as well as the Downshire Hill residents' association and the Heath and Hampstead Society, as well as 257 letters of objection.
Three hundred and fifty letters of support were received.
Addressing councillors on 20 September on behalf of United Synagogues, oncologist Dr Nicola Rosenfelder strove to make clear what a benefit to the orthodox Jewish community the eruv would bring.
Dr Rosenfelder said: "This eruv is particularly important, as it will link the approved eruvs in Westminster, Brondesbury, Golders Green, Finchley and Hendon.
"Until my children were able to walk, my husband and I were unable to leave home on Friday evening or Saturday. The same restriction applies to observant wheelchair users and their carers, who are often the more isolated members of the community.
"Some of the objections made display a misunderstanding of the concept and details. The poles and wire have no religious significance, nor do they affect the skyline. No wire extends over any private property."
The Camden eruv will also enclose the Royal Free Hospital and Marie Curie Hospice, making it easier for orthodox Jewish residents to visit family members or be discharged from healthcare facilities themselves on the Sabbath.
A variety of different concerns over the eruv were raised at the meeting. Many of the residents' associations represented in the report fear a "proliferation of street clutter".
One resident objecting to the eruv was quoted in the report as saying: "I do not wish to be forced through a religious structure every time I walk in my neighbourhood. I will feel trapped in a religious enclosure and mindset that I do not subscribe to."
An assessment by Camden Council into the placement of each individual pole found their aesthetic impact to be negligible.
Councillors were asked to take into account an "equalities impact assessment", which stated: "There would be a benefit for the Orthodox Jewish community to observe their faith together on the Sabbath.
"For some members of other denominations, faiths, and the wider community – based upon the representations to the planning application – there would be a negative impact in the way the area within the eruv is perceived and the pre-eminence this is seen as conferring on a single community."
Resident Stephen Bobash, representing residents of Downshire Hill, also claimed that United Synagogues' application was incomplete, saying that complaints submitted to an original application in 2016 were not represented.
Officers responded that the council had not published many of the complaints due to the antisemitic nature of many of the comments.
Cllr Danny Beales (Lab, Cantelowes), cabinet member for investing in communities, said: "When you were stating the reason that some of the comments were not made public gets at the heart of some of the issues here.
"It's such a shame in 2018 that we're not able to present comments and have to consider redaction. I even found some of the comments still presented in the report quite shocking, that that level of misunderstanding and prejudice exists still in Camden. Those sorts of views are unacceptable.
"There are significant equalities benefits if this goes through tonight. As an atheist, it does nothing for me, and I may not believe it, but I respect people's beliefs and their differences as I hope they respect mine."
Campaigner Jessica Learmond-Criqui also raised the danger to Hampstead Heath's "oasis of birds" posed by the eruv, leaving Camden Council criminally responsible for their deaths if they passed the application.
The council report states: "Objection has been raised on grounds of the impact on local wildlife, as birds may fly into a hazard they can't see. However, there is no evidence to support this objection."