Facelift for Shaftesbury Theatre as refurbishment plans approved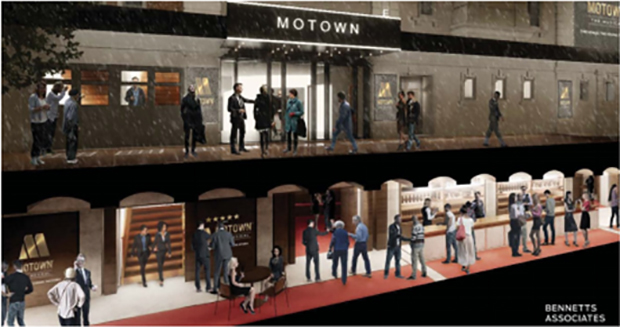 London's Shaftesbury Theatre is to be renovated, with a new entrance onto Princes Circus and a basement extension creating a larger foyer and bar.
The Shaftesbury originally opened as the Prince's Theatre in 1911, designed by prolific architect Bertie Crewe.
The last theatre to be built on Shaftesbury Avenue, owners the Theatre of Comedy Company have run it since 1984, and are eager to give the site an upgrade.
Having added a steel fly tower in 2015 to accommodate large-scale international productions, the venue appears to now be a victim of its own success.
A report submitted to a 20 September meeting of Camden Council's planning committee states: "Now that its operational capacity has been improved by the new fly tower extension, the theatre is able to attract musical/comedy shows of international acclaim.
"The existing public auditorium and facilities are currently a significant limiting factor for the theatre, for which it receives complaints.
"The existing internal layout means that current toilet provision is hugely under capacity and difficult to access.
"Similarly, due to their limited size, the bars in their current position become severely overcrowded and difficult to access during intervals. The building currently also has very poor disabled access, and public areas tend to become quickly overheated during shows.
"Given the prices paid by some patrons for these shows, modern expectations in terms of facilities and its direct competition from other theatres subject to recent investment projects, these elements act to prejudice the long term viability of the theatre."
The Shaftesbury's elaborate Renaissance style has it classed as a Grade II-listed building, and some concerns were raised by the Victorian Society on the look of the new entrance and staircases to the basement.
Addressing the meeting, a conservation officer said: "They had some concerns all of which have been addressed. The door which they had objections to was a new entrance door, and we had similar concerns about some of the changes to that area to create that entrance.
"The Victorian Society were concerned as to how modern those doors were looking, because you've got different sets to the left and right, so it's about understanding the evolution of the building."