Big Yellow Taxis: popular – and controversial – bike sharing service Ofo moves into Camden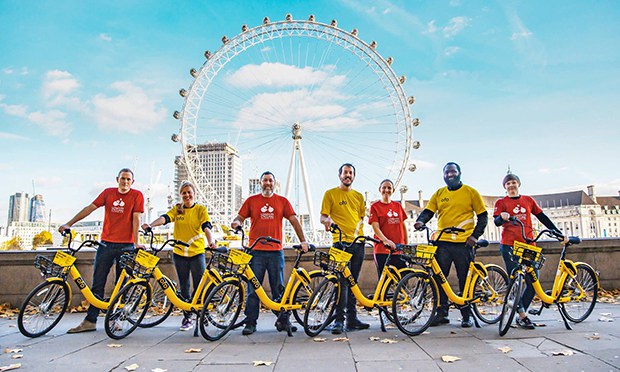 Chinese cycle sharing service Ofo have announced that their fleet of dockless bikes is extending into Camden with immediate effect.
Having launched in the capital by filling nearby Hackney with their bright yellow, app-controlled bikes last September, Ofo now operate in ten London boroughs, with Camden joining Hammersmith and Fulham, Wandsworth and Waltham Forest in these latest rollouts.
The bikes work in conjunction with a mobile app, which allows the customer to unlock the back wheel, cycle to their destination (paying by the half-hour) and drop off the bike wherever is convenient – providing they're still within the 'geo-fenced' coverage area.
Said area has been steadily increasing since the Hackney launch – Ofo claims a higher footprint than its other competitors in the capital, including TfL's Santander-branded offering.
However, this rapid expansion has not come without criticism and complaint. Our sister newspaper, the Hackney Citizen, reported on bikes "constantly being trashed or dumped in bins" around the time of the launch, and Twitter reveals that they are regularly spotted abandoned or vandalised in other areas – causing controversy in Cambridge when one was found littering their Princess Diana Memorial.
Furthermore, there have been worrying rumblings for the company in the Asian financial press, with reports of layoffs at their Singapore headquarters (yet to be commented on by Ofo) and other effects of a 'cash crunch'.
In London, however, it seems the expansion is set to continue. "We're thrilled to bring our dockless bikes to even more London boroughs," said Joseph Seal-Driver, the General Manager of Ofo's operations in the UK.
"Over the past year we've really taken off across the capital and these launches show the increasing popularity of bike sharing in London.
"We will be working very closely with all the new councils to ensure Ofo's rollout goes as smoothly as possible and to provide the best experience for residents.
"We are looking forward to seeing our distinctive yellow bikes on the streets giving people a fun, cheap and environmentally friendly way to get around."​
Ofo bikes are available around Camden as of today. You can download the app from their website, for iOS and Android.