Sleep Rock: American artist's dreamy exhibition at Camden Arts Centre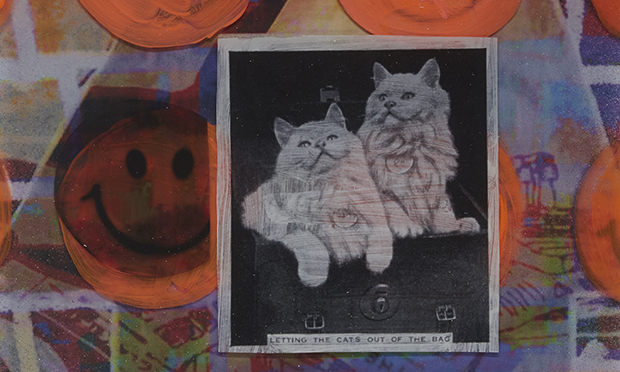 Dreams have long been a source of inspiration to artists, and Sadie Benning's new show Sleep Rock at the Camden Arts Centre presents a new take on the creative possibilities oneiric imaginaries.
Though the American artist is perhaps best known for her video installations, Sleep Rock – her first solo exhibition in the UK – is made up of more traditional wall-based art.
The sparse exhibition hung over two rooms shows off a mere 19 images, about a third of which are large canvasses, and the remainder under A4 size.
The works convey dreamlike states through colour, texture and contrasting scale, mixing acrylic with enamel, resin, and found images from popular culture and domestic life (snapshots, magazine cuttings).
Layering and juxtaposition evoke the cognitive process of association characteristic of our sleeping lives, generating palimpsests of texture and meaning.
In the larger works photos are juxtaposed jigsaw-style with bright painted cut-outs in primary colours.
The smaller works are shiny rectangles constructed via a novel approach that involves layering resin and composite transparencies with painted material and photographs.
Rich in colour and latent semantic associations, this exhibition mixes personal and cultural memes in a dreamy narrative.
Sadie Benning: Sleep Rock is on at the Camden Arts Centre until 24 June
Camden Arts Centre
Arkwright Road
London
NW3 6DG
020 7472 5500