'Reckless' quack who claimed he could cure cancer with food is hit with £2k fine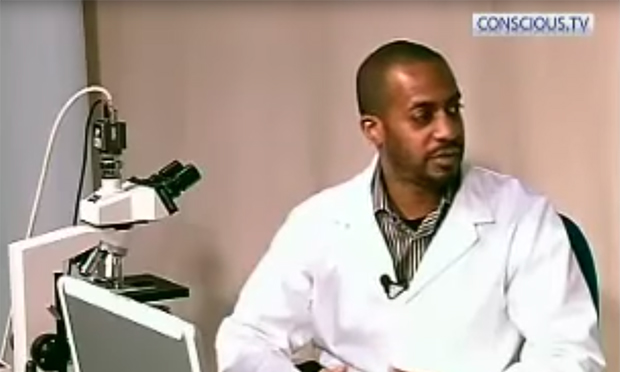 A man who claimed he could cure cancer using just a blood test and dietary advice was fined £2,250 and slapped with a criminal behaviour order at Blackfriars Crown Court last Friday.
Errol Denton, 52, of Woodford Green, was convicted last month of two breaches of consumer protection law and one breach of the Food Safety Act 1990.
He has been ordered to pay £15,000 to cover the prosecution's legal costs.
Denton has previously received adjudications against him from the Advertising Standards Authority (ASA) but refused to comply.
This led to his case being referred to officers from National Trading Standards (NTS) based at Camden Council, who investigated and brought the prosecution.
NTS acts as a "legal backstop" in cases where the ASA's judgements are ignored.
Denton ran a business called Live Blood Test, and claimed on his website that he could cure cancer, arthritis, diabetes, eczema, gout and hypertension by analysing a patient's blood and recommending changes to their diet.
He claimed to have helped 2,000 people discard conventional treatments in favour of using food as medicine. He also said choosing to undergo chemotherapy, radiotherapy or surgery was a "dumb move".
The criminal behaviour order handed down to Denton by the judge bans him indefinitely from making false health claims. If Denton breaches the order, he will be charged with contempt of court.
Paul Dunphy, Camden Council's director of place management said: "We are pleased the jury found that claims by Mr Denton to cure illnesses were misleading and false. The judge stated that Mr Denton had been reckless.
"As well as misleading clients over the contents and makeup of the treatments he provided, such claims could offer false hope to people who were vulnerable and in need of professional medical care and advice."
As part of the investigation into Denton, a trading standards officer went undercover for an appointment with him.
Denton, who rented an office on Harley Street, told the officer he could solve all of their blood issues.
At the end of the session, Denton gave the officer a bottle of colloidal silver – silver particles suspended in water – and advised them to consume it.
Colloidal silver is not authorised as a food supplement and it is illegal to sell it with the recommendation that it is ingested.
Denton also claimed the bottle contained 400 particles of pure silver per million, but an analysis showed it contained just four.
Lord Toby Harris, chair of National Trading Standards, said: "Some of the claims made by Mr Denton are frankly dangerous and despite being told by the ASA to stop he continued to make these untrue claims.
"He was also found by our investigators to be illegally advising people to consume products that were both incorrectly labelled and not authorised for human consumption.
"I am pleased that National Trading Standards has been able to fulfil its role in this case as the ASA's legal backstop and secure this important conviction. It should send a clear message that we will not hesitate to prosecute people who do not comply with the ASA's rulings."