Golden Age of Wireless: composer and curator to bring 1920s teen's radio logbook to life in British Library showcase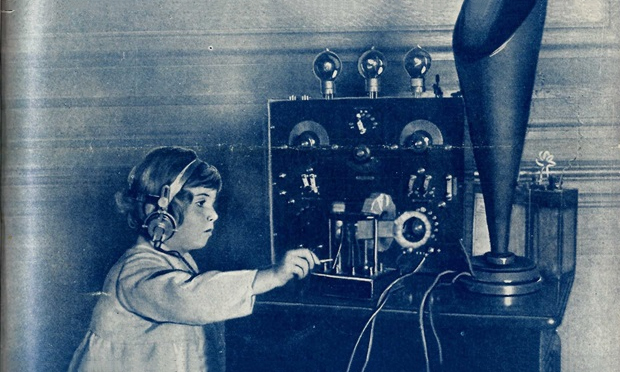 When 16-year-old Alfred Taylor began meticulously logging his daily trawl through the frequencies of his radio in 1922, he could not have foreseen the importance of his pencilled diary of shows, music and news broadcasts.
But the Lincoln teen's Wireless Log and Minutes Book has recently been acquired by the British Library, and it has inspired them in many ways throughout their Season of Sound – which continues next Thursday 5 April with a 'look and listen' event focusing in on Taylor's one-of-a-kind work.
Alfred Taylor, the Boy Wireless: Tuning in to Radio in the 1920s will see Paul Wilson, the Library's curator of radio, and violinist/composer Aleks Kolkowski (former composer-in-residence at the British Library Sound Archive) pore over the book, and explain its significance, particularly in the absence of many surviving recordings from the period.
The 96-year-old scribblings range from the technical (Taylor marvels at being able to actually hear the crowd at a live Royal Opera House broadcast featuring opera singer Nellie Melba, and on other days bemoans the signal being "very much interfered with") to the personal. On many of the dates, he notes the neighbours that have come round to join him – common practice in those less atomised days.
Stations that he checked in on include 2MT, a station based in an Essex hut that pioneered regular entertainment broadcasts, and 2LO, which was taken over by the very first iteration of the BBC, the British Broadcasting Company.
As well as co-chairing this event, Kolkowski has also created an audio-installation for associated free exhibition Listen: 140 Years of Recorded Sound, in which he uses his compositional talents to evoke and recreate what those ancient broadcasts might have sounded like to Taylor's wonder-filled imagination.
Alfred Taylor, the Boy Wireless: Tuning in to Radio in the 1920s takes place on Thursday 5 April from 19:15 to 20:30 at the British Library's Knowledge Centre (96 Euston Road, NW1 2DB)
For tickets and more information, visit the event page on the British Library website or call 01937 546 546 for the box office