Georgia Gould backs anti-semitism protest in debate with Tory leader at Camden council meeting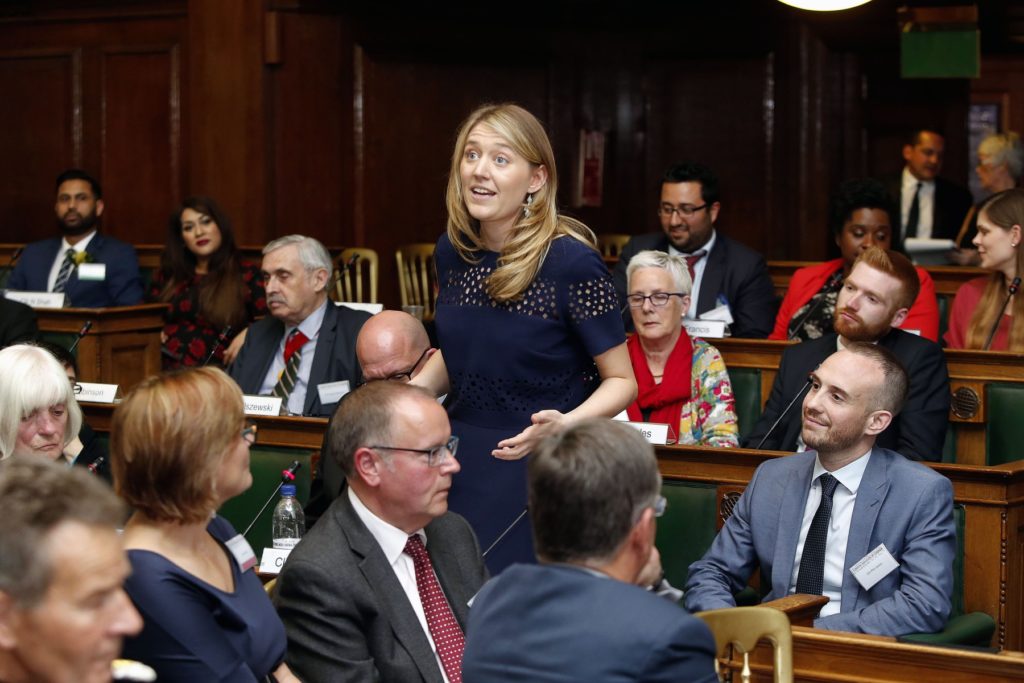 Georgia Gould backed a protest against anti-semitism in the Labour Party at last night's council meeting, calling herself "a Jewish leader" of a council which has "always opposed anti-semitism".
She was responding to criticism from Conservative group leader Gio Spinella at the final council meeting before the local elections on 3 May.
Cllr Spinella slammed Labour's record on house-building, charges for rubbish collection, cycling, and fire safety on the Chalcots Estate.
He then turned to last night's 'Enough is Enough' protest outside parliament by Jewish groups angry about Jeremy Corbyn's resposne to anti-semitism.
Cllr Spinella said: "I appreciated the fact that with such a record locally the Labour Party in this upcoming election will try to nationalise the elections, as they often do. But I don't think that's a very advisable step.
"Before this meeting here tonight another gathering took place in Westminster, where the Board of Deputies [of British Jews] had to raise a plea and a challenge against the national Labour leadership that to be generous is incredibly naive and insensitive to the concerns of their community."
Cllr Gould replied: "I think the first thing I want to say is that I was there this evening outside parliament standing with our Jewish community.
"I'm a Jewish leader of a diverse group of councillors who have always stood against anti-semitism."
To applause, she added: "It was Labour who led the way in passing a strengthened motion against anti-semitism, unanimously passed by this council, and we're clear that Camden is no place for anti-semitism, and the Labour Party must be no place for anti-semitism, and we welcome Jeremy Corbyn setting out his commitment to that."
We stand in solidarity with the Jewish community – anti-Semitism will not be tolerated in Camden & must not be tolerated in the Labour Party or anywhere else @Keir_Starmer @TulipSiddiq https://t.co/rHCal9djK2

— Georgia Gould (@Georgia_Gould) March 26, 2018
Earlier in the day, Cllr Gould tweeted a joint statement with local MPs Keir Starmer and Tulip Siddiq welcoming Corbyn's pledge to "redouble efforts to stamp [anti-semitism] out of our movement".
The statement on behalf of Camden Labour also said the authors are looking to meet with "Jewish community leaders to discuss what more we can do together to take on anti-semitism".
Cllr Gould was supported at the meeting by outgoing councillor Phil Rosenberg, who spoke of his personal experience of anti-semitism and praised the council's record in opposing it.
"Some of you will know that I have been disappointed about some of the way that Jews have been treated in my time", he said.
"Personally I've experienced that, I've been shocked to experience it. And we were in the unprecedented situation today where we had the 'Enough is Enough' demonstration in Parliament Square."
He added: "I've been really proud that this council has stood up, passing unanimously the International Holocaust Remembrance Alliance working definition of anti-semitism.
"I think we've seen strong words from Jeremy Corbyn today but now we need to see action, and I hope that we will continue to work in that vein."
Spinella and Gould also crossed swords on the local elections, with Cllr Spinella stressing the value of political "diversity" on the council, adding: "Never has the argument against a one-party state been more clear than now."
Cllr Gould replied: "Gio, it's not up to me to decide who comes onto these benches after the election, it's up to the people of Camden.
"And if you're worried about losing all your seats, maybe you should spend more time fighting the austerity that is tearing apart our community."
She also said Labour is proud of its record, saying the council has invested in "the first council housing since the 1970s", despite very little funding from central government.