Two 'extraordinary' former councillors made honorary aldermen of Camden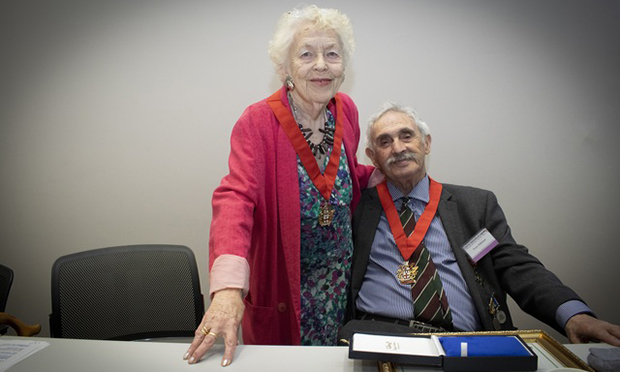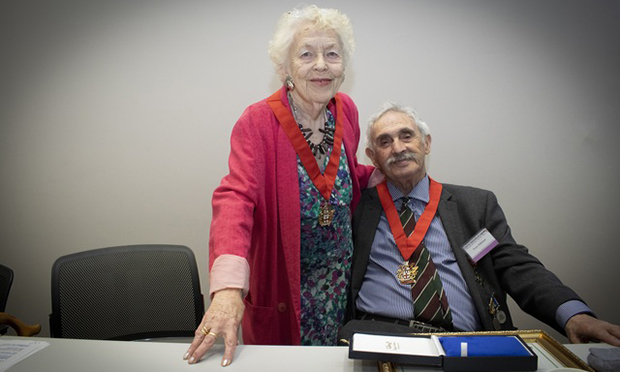 Two "extraordinary" former Camden councillors who clocked up 73 years' service between them have been made honorary aldermen.
Roger Robinson and Flick Rea were given the honour by fellow politicians, who also gave them standing ovations. 
The title of alderman has only been granted to 15 other people, including the late Roy Shaw, who was council leader from 1975 to 1982.
Former colleagues lined up to praise Rea and Robinson at a special council meeting yesterday, and their names will be inscribed in a marble roll of honours at the renovated Town Hall on Judd Street which is set to reopen this autumn.
The title of honorary alderman enables the pair to attend civic events and walk ahead of councillors at the annual Remembrance Day parade.
Robinson is related to Labour cabinet minister Manny Shindwell and Rea counts the founder of the police force, Sir Robert Peel, as one of her ancestors.
Robinson was described as the "father of the chamber". He served as a Labour councillor for 38 years – the longest record for any councillor. He represented  St Johns from 1964 to 1978 and then St Pancras and Somers Town between 1998 to 2022. He also served as mayor in 2001.
Mayor Nasim Ali said: "Roger was a real inspiration to me and I don't think I would be here as mayor if it wasn't for him. Roger and Flick were two of the hardest working councillors."
Council leader Georgia Gould praised them both "for such extraordinary service", adding: "They have changed so many lives and left a huge legacy in their communities."
She described alderman Robinson as a campaigner for social justice and pointed out that disabled residents were not being heard enough so the disability oversight panel was set up.
She said: "He has an irrepressible sense of humour and the kindest heart."
Robinson said: "It has been a great pleasure and honour to serve so many wonderful people in this borough."
Cllr Gould said Flick Rea, the Liberal Democrats' first honorary alderman, is an "extraordinary public servant" who "lit up our chamber".
"For Labour she was the 'unbeatable Flick Rea' who was so loved by her community," she added. "Flick is an absolutely formidable woman."
Rea holds the record for the longest continuous service as a Liberal Democrat councillor in Camden,  serving for 35 years in Fortune Green ward until 2021.
The Greens' Sian Berry remembered when they were both the sole representatives of their parties and Rea was quick to offer advice and support.
Rea said: "I decided that I was going to be noticed and West Hampstead was going to be noticed, so I wore this shocking pink jacket that I'm wearing now to my first council meeting."
She observed that over her 35 years in the council chamber, much changed.
She said it was satisfying to solve residents' problems, adding: "I'm really happy that I've been able to work in Camden and just hopefully made it a slightly better place."