Council stands firm against petition from far-left group to reject antisemitism definition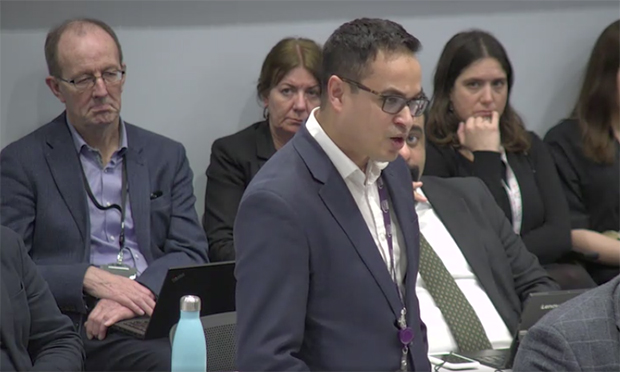 Camden Council, in a show of cross-party unanimity, has firmly rejected a petition from the Revolutionary Communist Group (RCG) to drop a widely-recognised working definition of antisemitism.
Members of the RCG were present at Monday 21 January's full council meeting to protest the attendance of council terror prevention officers at a meeting titled 'Labour, Corbyn and anti-Semitism: why is solidarity with Palestine under attack?'.
It is understood that organisers from the community venue where the meeting was being held raised concerns with the council about the subject matter to be debated.
Councillors from Conservative, Liberal Democrat and Labour parties all stood together in the face of the RCG's calls to repeal the International Holocaust Remembrance Alliance (IHRA) definition, which specifies eleven contemporary examples of antisemitism.
Representatives of the RCG present at the meeting claimed that the IHRA definition was being used to "limit free speech".
The RCG petition also called for details surrounding Prevent officers' attendance at the meeting to be published.
Cllr Abdul Hai (Lab, King's Cross), (pictured), cabinet member for young people and cohesion, underlined that Prevent officers attended the meeting in order to inform their own understanding of the debate and had not been instructed to attend as part of "reporting back" or to monitor particular groups.
Cllr Hai said: "We reject in the strongest terms the suggestion that Camden has sought to ban a meeting or in any way infringe on free debate or discussion. It is vital that people are able to speak and think freely.
"We have had a framework in place since 2014 designed to assist us and our partners in negotiating the difficult balance to give our communities clear guidelines and to make a clear statement about our commitment to free and open debate.
"I want to be completely clear that we stand by the IHRA definition which was passed unanimously by this council in 2017, which I'm really proud of. The definition has been adopted by UK, Welsh and Scottish governments, and over 100 other councils across the country.
"We are proud to be a diverse and vibrant community made up of all faiths and none, and everyone should be able to live safely in our borough free from prejudice."
Cllr Oliver Cooper (Con, Hampstead Town), leader of the opposition, added: "The IHRA definition has been agreed by virtually every rabbi in the country. The community is united in accepting that definition, and when we turn away from them and refuse to accept what they say at face value, we are doing a great disservice."
Cllr Cooper was heckled by RCG members during his statement, in which he criticised the far-left group for making statements such as 'Zionism is racism', to which they replied with shouts of "It is".