Camden Council votes to formally support demand for second EU referendum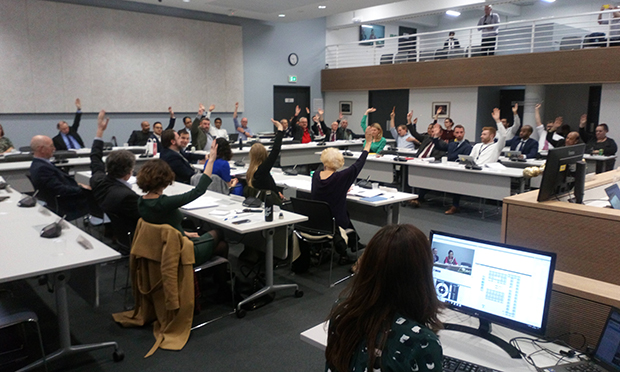 Camden Council has declared its formal support for a referendum on any final Brexit deal, with an option to remain in the European Union (EU) on the ballot paper.
The Liberal Democrat motion backing a 'People's Vote' was brought by Cllr Luisa Porritt (Lib Dem, Belsize), and was voted through by Camden's Labour majority, with deputy leader of Camden Conservatives Cllr Gio Spinella (Con, Frognal & Fitzjohns) also lending his support.
Camden residents voted overwhelmingly (74.8 per cent) in favour of remaining in the EU back in 2016, with the constituency seat of Hampstead and Kilburn in particular the 13th-most Remain-leaning area in the country.
Cllr Luisa Porritt (Lib Dem, Belsize), who brought the motion, said: "It is poignant that we should have the opportunity to finally pass this motion the day after the centenary of Armistice Day.
"We have come so far since that time, but Brexit casts a dark shadow over what would otherwise be an optimistic future, both for us and our European neighbours.
"Camden's EU citizens continue to live with uncertainty as to what their rights will be, should Brexit go ahead. During the local election campaigns, a Spanish couple who lived around the corner from me said that they were moving to Madrid, because they no longer felt welcome in the UK.
"We owe it to them and others like them to call out the sham that is Brexit."
The debate around Brexit also saw a clash between council leader Cllr Georgia Gould (Lab, Kentish Town) and leader of the opposition Cllr Oliver Cooper (Con, Hampstead Town), who explained Conservative abstention from the motion on the grounds that Brexit was an issue beyond the council's remit and control.
Cllr Gould said: "We're charging towards either a catastrophic no-deal, or a deal that I don't think anyone thinks is going to make us anything but poorer.
"Oliver, I know that you often question why we bring these issues, and say that it is a debate about foreign policy, but I beg to differ.
"The future of our 24,000 EU citizens, as well as the rights of many of our colleagues in this chamber to stand beside us, is not a foreign policy issue.
"If you really think that, you need to knock on a few more doors to see how deeply felt this is in Camden."
Cllr Cooper responded: "I'm sorry to hear that the Labour party is for motions that do not relate to the powers of this council.
"We're proud to have tabled a motion [on animal welfare] which does raise standards, but these are things which the council has control over.
"Things like the budget, and Brexit, are undoubtedly important, but they're not things that we can control as a local authority.
"So we are going to be sticking to what is laid out in our manifesto. If councillors want to vote on things which are outside their control, they can do, but we are going to abstain, because that is a reflection of our priorities of what we can control as a council."