Council promises to learn lessons from Chalcots estate evacuation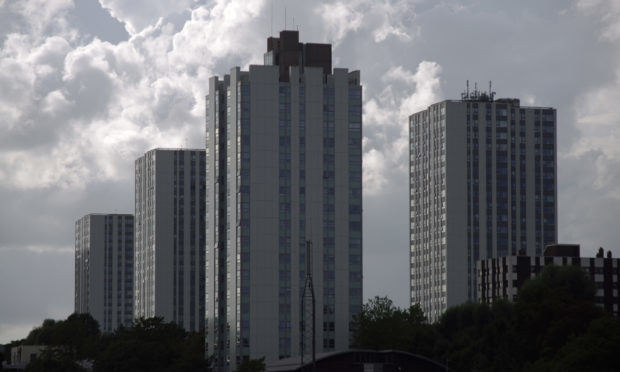 Camden Council's safety and housing officers pledged last night (23 July) to learn the lessons of the Chalcots Estate evacuation.
At a meeting of Camden's Housing Scrutiny Committee, Camden's Director of Resident Safety, Keith Scott, was quizzed by councillors on how Camden's policy will evolve in the wake of the evacuation of four of the five blocks of the Chalcots Estate on 23 June.
Addressing the committee, Mr Scott emphasised that working with and listening to residents on fire safety would be at the heart of the council's approach.
Mr Scott said: "How are you going to know what is important? You're going to ask the residents. It is about engagement and building relationships.
"It is also about involving residents in the process. We may know the technology stuff, but we don't live there. The residents do.
""We are going to increase the competence of fire risk assessment processes. It's going to have to be a constant campaign, because we're changing the culture."
Under close questioning from Cllr Marcus Boyland (Lab, Gospel Oak), Mr Scott revealed that officers are working towards a central reporting facility, in which residents would be able to report fire safety issues that they notice, as well as rolling out hazard spotting training to Tenants and Residents Associations.
Cllr Boyland emphasised the importance of making residents aware of key fire safety measures, saying: "We need to do more to persuade residents that they're taking responsibility for their neighbours – some of the reason the evacuation happened is that the residents had changed the closers on their fire doors."
In his separate report to the committee, Meric Apak (Lab, Kentish Town), Cabinet Member for Better Homes, suggested training caretakers to take the lead in fire safety.
Mr Apak said: "Some caretakers are totally demoralised because they know they are going to the same location to clean the same bodily fluid. It's a thankless job.
"Our caretakers are our frontline eyes and ears. I want to upskill them, so that the minute they notice something like fire safety door closers being removed, they can notice that and report it immediately, enhancing their role to keep up with spotting anomalies on our estate."
According to Camden Council, the evacuations of the Chalcots Estate was one of the largest peacetime operations of its kind in London's history, at a cost to the authority of £19.6 million.
One of the criticisms levelled at the Council in Marian Harrington's Independent Review of the event was a perceived lack of clarity in the wording of the letter informing residents of the need to leave their homes over the fact that the evacuation was voluntary.
Cllr Steve Adams (Con, Belsize) said: "The confusion over whether the evacuation was voluntary or mandatory is still there. As far as Camden is concerned, they had to evacuate the towers.
"Where residents are confused is where the evacuation wasn't mandatory, but people were still allowed to remain."
Mary McGowan, Director of Housing Management, said: "We didn't evict people – at least two hundred people remained. People continued to come back constantly to their homes. We didn't say to people, 'You're not allowed in.'
"Lots of people stayed, and we facilitated people coming in and out of the building, washing, cooking, and watching the telly. People weren't ever excluded from their homes."
Councillors questioning council officers were told that the London Fire Brigade had signalled their intention to make an Article 31 order, which would have made mandatory the immediate removal of all residents from the estate.
The council, in a bid to avoid this course of action, hand-delivered a letter to residents on 23 June informing the residents of the need to evacuate.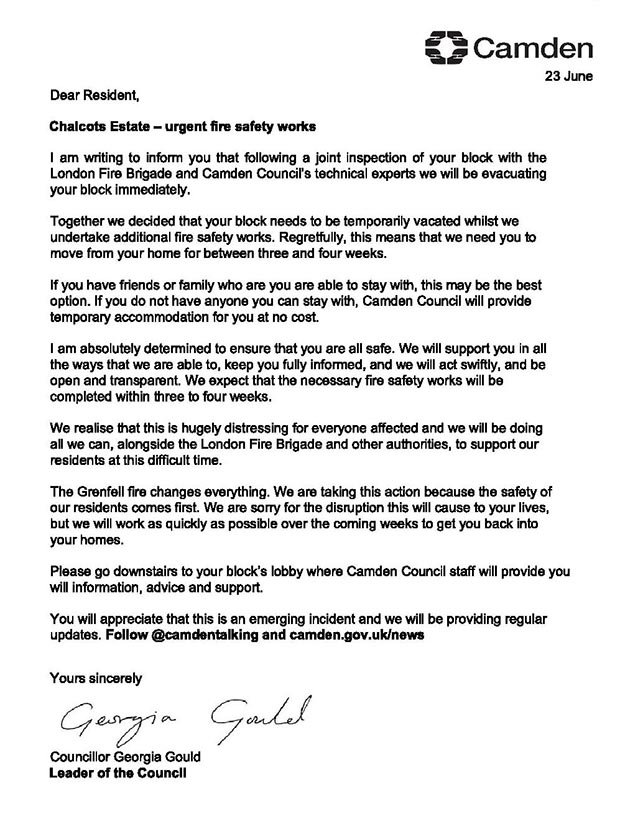 The letter (pictured), from Councillor Georgia Gould, Leader of the Council, does not make clear the voluntary nature of the evacuation.
It states: "I am writing to inform you that following a joint inspection of your block with the London Fire Brigade and Camden Council's technical experts we will be evacuating your block immediately.
"Together we decided that your block needs to be temporarily vacated whilst we undertake additional fire safety works. Regretfully, this means that we need you to move from your home for between three and four weeks."
Mr Scott added: "I think we had the best possible solution. We were able to look at the safety of people who could not be moved.
"You cannot, when dealing with one hazard, create another hazard.
"We were given a clear indication by the London Fire Brigade that if we weren't going to do it [the evacuation], they would have done."
Camden Council will give its full response to the Harrington Review at its Cabinet meeting on Wednesday 25 July.