Council rejects suggestion to install more fire extinguishers and blankets in homes – over safety concerns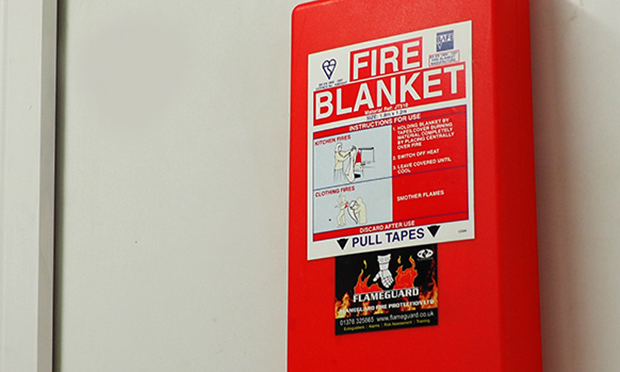 Camden Council has decided against supplying small multi-purpose fire extinguishers and fire blankets in the borough's homes as they "put residents at risk" if used incorrectly.
According to the council's report, fire extinguishers and blankets should only be used by those trained to use them and it is not considered "appropriate or practicable" for residents to have such training.
The council came to this decision after taking advice from the Local Government Association, London Fire Brigade and the official report on the Lakanal House fire, which killed six people in Southwark in 2009.
At Tuesday's Fire Safety Advisory panel, Stephen Smith, Acting Head of Property Services, said: "Residents can put themselves at risk by dealing with the fire in their own flat.
"They should concentrate on closing the door to the fire, raising the alarm and getting themselves and other residents out of the building.
"Time and time again I've seen residents getting hurt by using extinguishers.
"As the seconds are ticking by to get out, you could make the fire even worse by using the wrong kind of extinguisher."
The council's report said that the main difficulty with using extinguishers is that there are different categories for different types of fire.
For instance a chip pan fire is a fat-based fire and would need to be put out with a wet chemical extinguisher. However most of the extinguishers you would find provided in communal areas in residences are usually either water-based or aqueous film-forming foam.
The suggestion that more fire blankets be installed was also dismissed on the grounds that they would put residents at risk if they don't know how to use them properly.
"Fire blankets sound like a basic thing to use, but its not that easy," Stephen Smith said.
"People often use them completely incorrectly and end up burning their hands. It's easy to panic when there's smoke filling up the room and the flames are building."
A spokesperson from the London Fire Brigade said: "It is not normally necessary to provide extinguishers in communal areas of blocks of flats."
"Retrieving an extinguisher and returning to the flat on fire could put someone's life at risk. It also goes against our advice of getting out at calling 999.
"Similarly if the fire is in another part of the block, residents not affected by the fire should remain in their flats unless told to leave by the fire service."