Sweat at the Donmar – review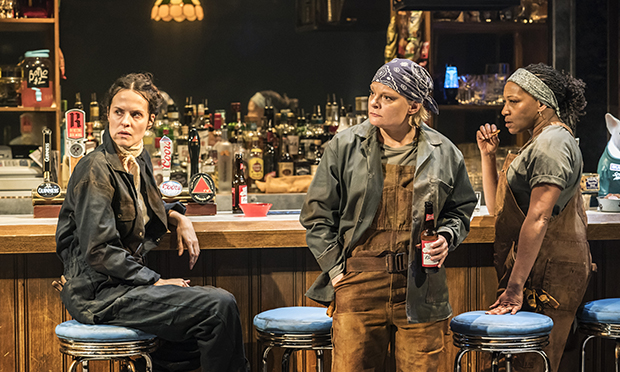 Since the election of Donald Trump in 2016, most of us have probably puzzled more than once at what has gone wrong in the US.
How can so many working class Americans appear unenlightened as to the cause of their economic plight?
Why is it that this society of immigrants has suddenly turned against itself?
Sweat probes the complex psychology of economic dispossession. Set in a Pennsylvania steel town in 2000, the play by Lynn Nottage premiered in 2015 and won the Pulitzer Prize for drama in 2017.
A couple of years and a political generation after its first outing, Lynette Linton's social realist production now running at the Donmar Warehouse is perhaps even more relevant.
Cynthia (Clare Perkins), Tracey (Martha Plimpton) and Jessie (Leanne Best) are friends who have worked 'on the line' for 20 years.
They have between them two sons, Chris (Osy Ikhile) and Jason (Patrick Gibson), who are doing the same.
Life is good; as union members they earn solid money and can dream of luxuries.
Then things begin to fall apart. Looking to reduce costs, the plant co-opts Cynthia to oversee wage cuts.
The staff fight back with industrial action, but eventually they lose.
The focus of the play is on the psychological fall-out of the social and economic tumble it depicts.
Recrimination, resentment and outright racism power the narrative to its tragic end, as decades of hard work and loyalty are revealed to be worthless against the twin threats of cheap labour and automation.
In the background float snippets of a televised election campaign, with George W Bush promising to solve the country's problems.
But if the characters notice at all, it is to denigrate politicians and declare their unwillingness to vote.
At the turn of 2019 one cannot but wonder if the play does not have an implicit postscript: impoverished and disillusioned Pennsylvanian ex-steel workers may not have voted in 2000, but in 2016 that could well have changed, and Sweat provides a chilling insight into how they got there.
With deft acting and mostly plausible accents, this sobering production is an excellent choice for the new year.
Until 26 January 2019
Donmar Warehouse
41 Earlham Street WC2H 9LX
020 3282 3808