Battle of wheels as cyclists clash with taxi drivers over Bloomsbury route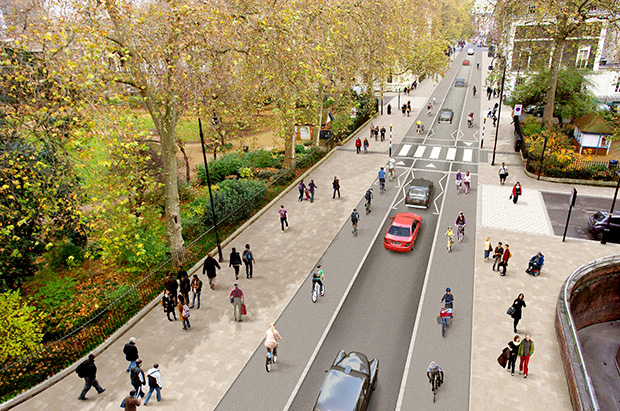 A decision to maintain a cycle route in Bloomsbury has been met with sharply contrasting reactions from London's cyclists and taxi drivers.
Torrington Place and Tavistock Place were first made single-lane in November 2015.
The new arrangements, made using an experimental traffic order (ETO), made the route one-way, with extra space given for cyclists.
In 2016, in the largest response to a public consultation Camden Council has ever received, 79 per cent of 15,000 respondents backed the scheme, with 21 per cent against.
A 5 September meeting of Camden Council's cabinet has decided to make the ETO permanent, whilst moving to consult on considering the alter the flow of traffic on the route to westbound.
The news was met with delight from cyclists, who had campaigned for the maintenance of the scheme in the face of opposition from London's taxi drivers, who had complained of increased congestion caused by the route.
Roger Geffen, policy director at Cycling UK, said: "Camden Council's decision to retain cycle tracks in both directions on Tavistock Place is a victory for common sense.
"It will not only benefit the growing numbers of people taking up cycling as a clean, convenient and healthy transport option, but for everyone who currently suffers from London's congested and polluted streets.
"It is a crying shame that the taxi lobby continues to oppose healthy travel. However, this is very good news for Londoners overall."
The route, stretching from Angel to Marylebone, is the busiest street for cycling in Camden, and one of London's most used by cyclists.
Surveys in 2015 recorded 1,009 cyclists during the morning peak hour and 880 in the afternoon peak hour.
Local campaigning group Camden Cycling Campaign pointed out that the changes had had a beneficial effect on air quality on the busy streets of central London.
John Chamberlain, chair of Camden Cycling Campaign, said: "This corridor, which passes through the heart of the university district in Bloomsbury, is an important and very heavily used part of Camden's cycle grid and is a very popular route for both local and commuting cyclists.
"The previous layout with a single narrow bi-directional cycle lane was overcrowded and dangerous.
"The current setup is popular with pedestrians as well as cyclists, and has also resulted in an improvement in air quality due to the reduction in motor traffic.
"If the cabinet had not approved the scheme, it would have reverted to the previous layout. This would have been a very retrograde step.
"We are very pleased to see this endorsement of Camden's policy of prioritising pedestrians and cyclists over motor traffic."
London taxi drivers had previously campaigned for the streets to return to two lanes, citing congestion caused by the new scheme, and had called for other solutions that kept a bi-lane system whilst making improvements for cyclists.
Richard Massett, chair of the Licensed Taxi Drivers Association (LTDA),
said: "The LTDA is disappointed by Camden Council's decision to make the ETO on the Tavistock Place/Torrington Place corridor permanent.
"It's clear that the scheme has led to clogged-up local roads, dangerous levels of pollution and unacceptable accessibility issues.
"The LTDA, alongside local community and business groups, wholeheartedly support a new westbound route along the corridor, and believe that a new traffic order to this effect would have offered a fairer outcome.
"We're looking forward to seeing Camden's proposals for westbound traffic flow come forward, and hope that all parties can continue to work together to deliver a scheme which works for all road users."
The consultation on whether to reverse the flow of traffic on the route from east to west to reduce congestion and aid in access to the Tavistock Hotel, as recommended to councillors by planning inspector Martin Elliott, is expected in the autumn.
Councillor Adam Harrison (Lab, Bloomsbury), Camden's cabinet member for improving Camden's environment, said: "We want to make our streets safer for all road users and to be the best borough in London for travelling sustainably.
"To achieve this we need to transform our roads into a better environment for pedestrians, improve facilities for cyclists, and manage traffic well.
"We have taken the time to give careful consideration to the inspector's report on Tavistock Place-Torrington Place.
"There is an option of maintaining the current two-way cycle lanes but reversing the direction for motor traffic to westbound.
"The original consultation attracted the highest number of respondents Camden Council has ever received to a consultation, and we will be making every effort to once again reach out to every group who has an interest in these proposals.
"Until then, we plan to maintain the current eastbound layout. To reinstall the original layout would be a backward step and a waste of taxpayers' money."